After more than eleven years, patch 2.4 should touch the balance of class builds for the first time. We were able to speak with the developers about this announcement. All important information at a glance.
Diablo veterans must now be strong. After patch 1.13c from 2010, nothing was changed for a long time in the balancing of Diablo 2. Whether Hammerdin, Plague Javazon or Static/Nova Sorc: fans have long settled on their favorite builds and can handing out skill points and gear with your eyes closed.
But today, developer Vicarious Visions is really changing the balance of class builds in Diablo 2: Resurrected. Patch 2.4. must allow greater freedom in the design of builds. Skill upgrades (little used), new runes, new set items, and Horadrim recipes should make class builds more varied and encourage players to experiment.
We were able to speak ahead of the patch announcement with Studio Design Director Robert Gallerani and Senior Game Producer Matthew Cederquist. We summarize all important information for you in this article.
PTR launched for patch 2.4
release date : January 25, 2022
What can you test on the PTR Class balance changes, new runewords, new horadrim recipes, mercenary changes, and more gameplay tweaks.
What about the ladder This is not yet introduced on the PTR. We therefore do not know when D2R will finally have its ladder seasons.
* You can find more information in the official blog () of the PTR)
How to participate
To participate in the PTR, you must have a non-preempted Battle.net account, a version of Diablo 2: Resurrected, and the Blizzard Battle.net desktop app.
Starts the desktop application and opens the Diablo 2: Resurrected page.
At the bottom left, just above the "Play" button, you'll find a drop-down menu. Here select "Public Testing Real (PTR)".
Now click on "Install" and follow the installation instructions.
Your PTR account will be automatically created if you don't have one yet.
The most important information at a glance
What will the 2.4 update contain?
Changes to the balance of classes and their builds
New runic words for the ladder
New Recipes for the Horadrim Cube
When will patch 2.4 be released?
A precise date for the release of patch 2.4. has not yet been mentioned. A PTR should first follow in early 2022. Based on the feedback gathered, the developers will decide which features and changes will be kept in the patch and which should be removed or reworked.
The changes only affected the ladder?
Changes to class balance impact the entire game. The new runewords will first be introduced in ladder seasons. Items collected there may, however, be transferred to non-Ladder games.
Where can I find more information about the patch?
This week, Studio Design Director Robert Gallerani speaks live with streamer MrLlamaSC about the upcoming 2.4 patch, possible changes, and features.
When: Thursday, December 16 at 8 p.m.
* Where: On the string (Twitch de MrLlamaSC)
Class Balance Changes
The last patch that changed the balance of Diablo 2 was already more than eleven years ago. With patch 2.4, the developers of the remaster now dare to make changes that could upset the gaming behavior of longtime fans.
But do not panic : "None of the existing classes or builds will be generated", assures Robert Galleranie, design director of the Vicarious Visions studio. "We know people love the hammerdin, for example, and we won't take that away from them." Instead, the patch should allow other builds, which didn't have enough space to flourish in classic Diablo 2, to see the light of day.
"Our goal is to say to the players, 'Oh, you want to play this way? Yes, of course you can! adds Robert. Thus, Diablo fans in the future will be freer to create their builds and to resort to skills that were not worth it before.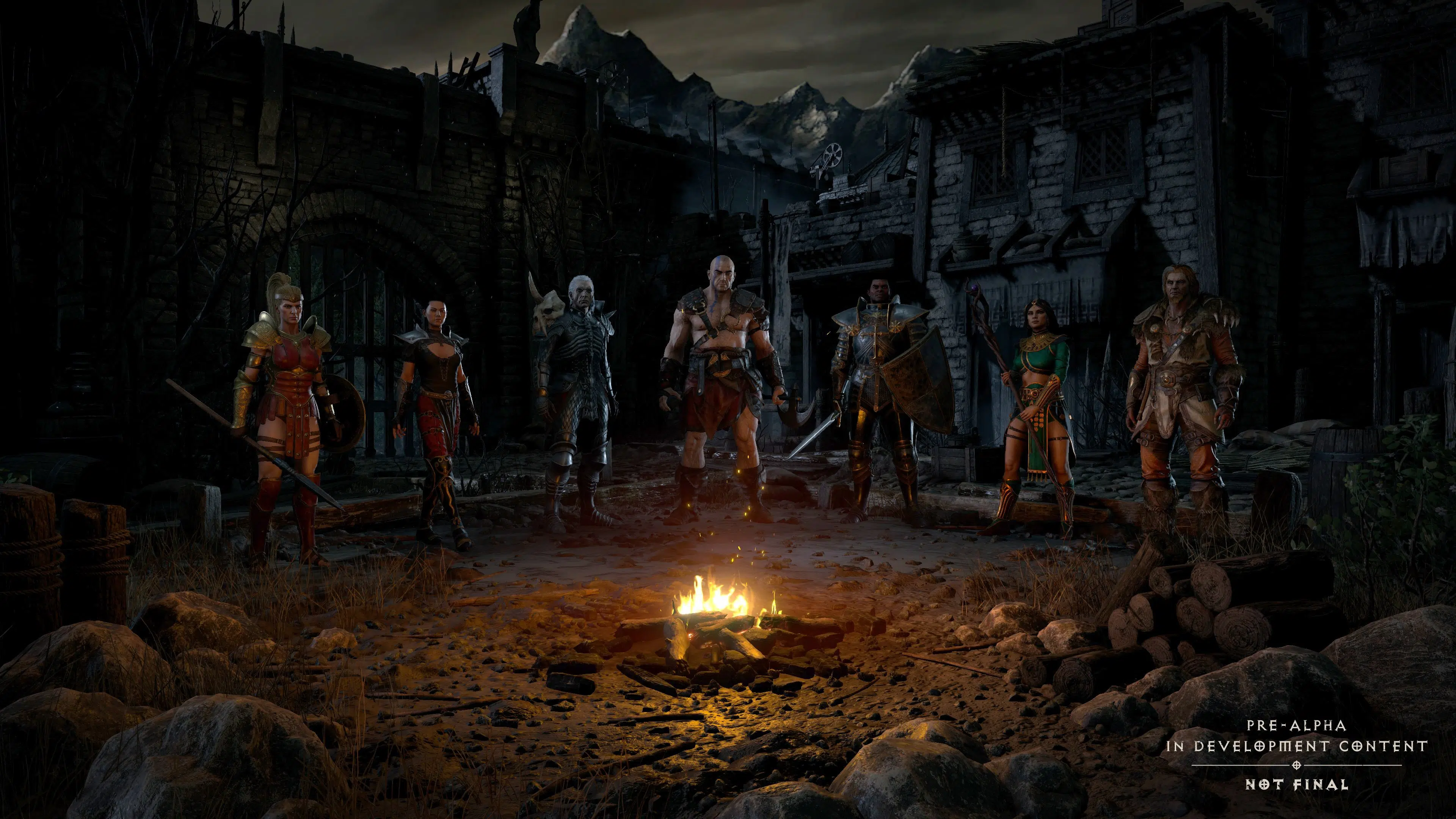 The developers do not yet reveal how these changes will present themselves concretely. They do, however, give early indications of what patch 2.4. could bring to the different classes:
Amazone
For the agile amazon, the developers still see potential for improving melee combat skills by playing on their synergies. At the same time, some bow and crossbow skills should be adjusted to improve ranged combat at more difficult levels.
Assassin
Here the developers want to highlight the martial arts build. For this, they are looking at how the generation and distribution of combo points can be improved. They also plan to make changes – for example synergies – to trap skills, to entice players to try trap builds.
Beard
In Update 2.4, the Barbarian should have more variations in their combat skills. Additionally, Barbarian Caster builds will be optimized, for example by improving Double Throw or Master Throw abilities.
Druid
Patch 2.4 should allow more freedom in the creation of builds. Builds that weren't worth it in classic Diablo 2 need to be made more attractive again through optimizations. » src= »https://www.gamesdone/wp-content/uploads/2021/12/Patch-2.4-should-allow-more-freedom-in-build-creation.jpg » width= »1920 ″height="1080″/☻
Death Hunter
For the Necromancer, the developers want to focus on summons that aren't used very often by players. Thus, Skeleton Mages should be improved and Golems more effective. Also, bone skills should be optimized for higher difficulty levels. For this, the synergies will be revised upwards.
Paladin
According to the developers, players also do not exploit all the skills of the paladin. Lesser used skills, like Celestial Fist, should be more appealing. Also, the paladin's offensive aura should be optimized, so close-range AoE damage should be more effective. The Thorns skill should also be upgraded to deal more damage at higher levels.
Witch
For the sorceress, the developers see potential for improving armor skills to bring more variety in Ice Armor, Tremor Armor, and Frost Armor. New skill synergies should further entice players to experiment more with lightning builds. Underused fire skills like Hydra also need to be maxed out. Finally, the use of the Inferno skill should be improved so that the fight is no longer so cumbersome.
New runic words
We have planned a large number of new runic words", explains Matthew Cederquist, senior producer of the game. The developers want to introduce them little by little into the ladder. "In one season, there may be two new runic words, then three more in the next season."
At the end of a season, ladder characters are transformed into non-ladder characters and take all the items they have earned with them. For this, three additional tabs open in the chest with all the objects of the ladder. That doesn't mean players will suddenly have more storage space — instead, you can only pull items out of those three tabs, but you can't store anything there. "That's how you get ladder-exclusive items in your non-ladder game," adds Robert Gallerani.
The new rune words should help fill in the gaps in rune distribution in classic Diablo 2, Matthew Cederquist explains: "We found that many runes, like Stealth, were designed for the early game. there are runes that become particularly important later in the game. And in the middle there is a gap – around levels 40 to 60".
But going forward, developers don't just want to fill that void: new runewords should also include more classes and builds that have been disadvantaged so far, according to Matthew Cederquist.
The Ladder in Diablo 2: Resurrected
Just like classic Diablo 2, you can choose between four ladder modes in Diablo 2: Resurrected:
Le ladder standard
The casual version of the ladder with four acts.
Lader hardcore
The hardcore (one life) version of the ladder in four acts.
Standard expansion loader
The casual version of the ladder with five acts, as it includes the Lord of Destruction expansion.
L'extension hardcore du ladder
The hardcore (one life) version of the five-act ladder, which includes the Lord of Destruction expansion.
There is no information about the start of the ladder in D2R yet. Likewise, the duration of the seasons is not yet clear. We'll keep you up to date in our roundup article:
Diablo 2 and Resurrected: What is the Ladder and how does it work in 2021?
Mercenary Changes
Even mercenaries must not remain empty-handed. Along with additional runic words, Patch 2.4 brings a few tweaks to them that should make the Particularly Overlooked Mercenaries interesting for players again.
The developers are aware that most Diablo fans prefer the Act 2 Desert Threads, as they support the player with powerful auras. "We didn't touch these mercenaries either," explains Robert Gallerani. "But we want there to be more reasons for players to use other mercenaries in certain situations."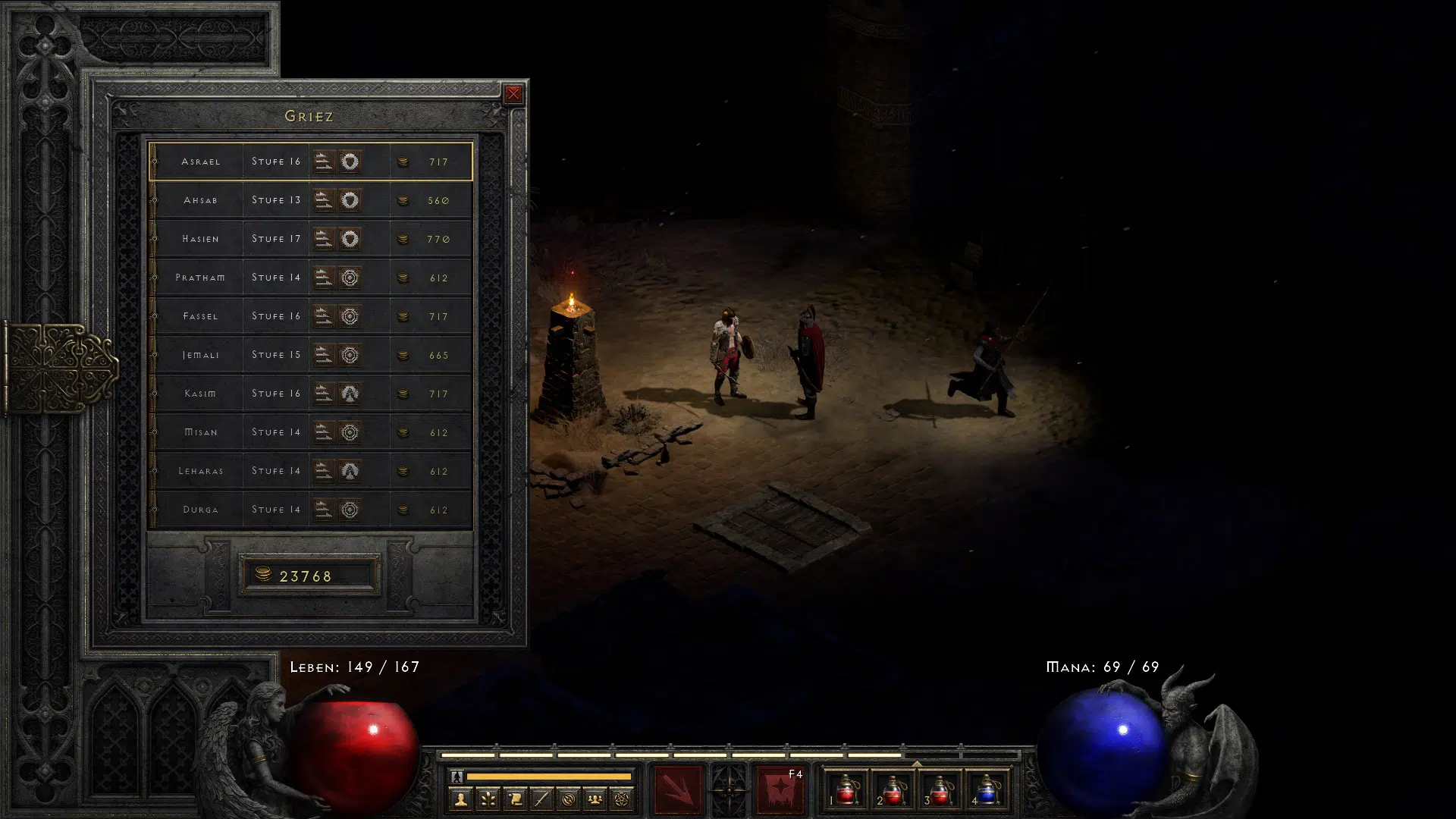 For example, Matthew Cederquist quotes the Act 5 Barbarians: "For 20 years, players couldn't really appreciate these mercenaries. Based on the feedback we received from testers, we have now equipped the Barbarian mercenaries with shouts, for example".
The developers cannot guarantee that these changes will eventually be applied in the same way when patch 2.4 is released. For now, they are trying out a lot of things, talking with streamers and testers, and waiting for player feedback on the PTR, which is expected to happen in early 2022.