Want a smartwatch that looks like an Apple Watch, but for an Android smartphone? So here is its double: the Oppo Watch. An efficient and stylish object, which is currently being packaged with free Oppo Enco W31 wireless headphones.

The Oppo Watch is a fairly recent connected watch, since it only launched in France at the end of last year. Today she doesn't really benefit from a price drop, but it's a good opportunity to buy her since she is sold in a pack with the Oppo Enco W31 wireless headphones, worth 80 euros.
The Oppo Watch at a glance
Apple's rectangular style, but for Android
A quality AMOLED screen
Ultra fast charging
The Oppo Watch is basic available at 249 euros, in a 41 mm model. For the same price, today you can have additional headphones offered thanks to this pack in promotion at Fnac and at Darty.
To learn more about the Oppo Watch 👇
6 /10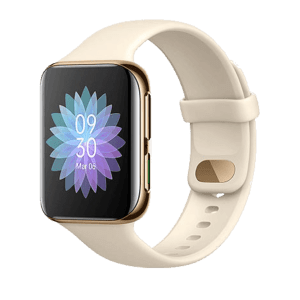 The Oppo Watch is very elegant on the wrist. It sports a more or less square aluminum casing (4.1 x 3.5 x 1.1 cm) with a 1.6-inch AMOLED flat screen on the 41 mm model. No Digital Crown like at Apple on the side, but two buttons to navigate the menus. There is also a speaker and a microphone on the edge.
The connected watch from Oppo is powered by the Qualcomm Snapdragon Wear 3100 supported by 1 GB of RAM. The user experience is fluid on a daily basis and the manufacturer has also had the good idea to add some customization tools, such as the possibility of adapting the colors of the dial according to your outfit of the day via a simple photo of your clothing. Note that the storage space is 8 GB.
Then there is obviously a whole range of sensors (GPS, accelerometer, PPG quad-channel heart rate monitor, barometer, gyroscope, etc.) to ensure the classic monitoring of a connected watch, including health and sport. It can recognize up to 5 different activities: running, outdoor cycling, outdoor walking, fat-burning running and even swimming thanks to its resistance to immersion up to 30 meters.
Its main asset is undoubtedly its autonomy. Its 300 mAh battery allows it to last 24 hours with Bluetooth 4.2 constantly activated and can reach a lifespan of 2 to 3 weeks thanks to the energy saving mode. In addition, the Oppo Watch benefits from an ultra fast charging system that allows it to recover 30% in just 15 minutes.
To find out even more, do not hesitate to read our review of the Oppo Watch.
---
The offer for the Oppo Watch is no longer available?
If, afterwards, the offer mentioned in this article is no longer available, please take a look at the table below to find other offers concerning the Oppo Watch.
To compare the Oppo Watch
In order to compare the Oppo Watch with other more or less expensive models depending on your budget, we invite you now to consult our guide to the best connected watches in 2021.