For the 35 years of the famous mustached plumber, Nintendo unveiled a new limited edition Mario Switch. It is now available for pre-order from several e-merchants. Here is the list.

The Switch is a real success for the Japanese firm. It has broken all records since its launch in March 2017 and the Nintendo fever is not about to end. The Super Mario license is currently celebrating its 35th anniversary, the opportunity for Big N to spoil its fans with a limited edition of its hybrid console, in the colors of the famous mustached plumber.
Where to pre-order it?
Nintendo Switch Limited Edition Mario is available today at 329 euros at Fnac, on Cdiscount and at Micromania. A carrying pouch is delivered with the console.
To know everything about the Nintendo Switch
The Nintendo Switch Limited Edition Mario obviously sports the colors of Mario. The console dock is completely covered in red, as are the console dial and the Joy-Con pair. Blue is mostly used for the controller support and wrist straps.
The carrying pouch delivered with the hybrid console offers the same colors, however with a reminder of yellow reminiscent of the game pieces on the zipper sliders. We can also see small logos from the Super Mario license.
For the rest, it is the same Nintendo Switch as the others. Since the new edition launched in 2019, the console is powered by Nvidia's Tegra X1 chip, engraved in 16mm, to save more energy than before. The autonomy has also been increased compared to the 2017 model to reach almost 5 to 6 hours, depending on use.
This Switch model also has a better screen. It is brighter than the old one (318 nits against 291 nits) and above all better calibrated (6,757 K against 7,200 K, knowing that the ideal is found at 6,500 K). This therefore offers better readability in direct sunlight and, at the same time, more contrasting colors.
Finally, we invite you to read our comparison of the Nintendo Switch vs Nintendo Switch Lite to find out even more.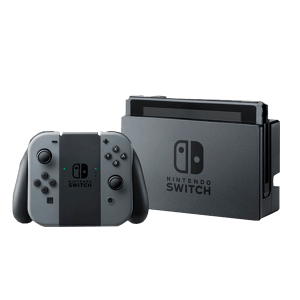 Our buying guide
Still hesitating between Nintendo, PlayStation or Xbox? So here's our guide to the best consoles in 2021.