The Xiaomi Redmi Note 10 is to date the best 4G smartphone under 200 euros that you can find on the market. Do you want to get it at the best price? Follow the guide to find the best deal of the moment!

The Redmi Note 10 definitely marks the Chinese manufacturer's big comeback in the entry-level segment, and many of you think so. Indeed, Xiaomi delivers here an affordable smartphone with very few compromises as its technical sheet is surprising for its price. In short, a fine heir to the Redmi Note range. Our test has already designated it as the ultimate smartphone under 200 euros.
Where to buy the Xiaomi Redmi Note 10?
The Xiaomi Redmi Note 10 is available at 199 euros, only in its version with 4 GB of RAM and 128 GB of storage. It is available in several colors: pebble white, onyx gray and lagoon green.
You will find it at several resellers by consulting the table below.
Everything you need to know about the Xiaomi Redmi Note 10 👇
9 /10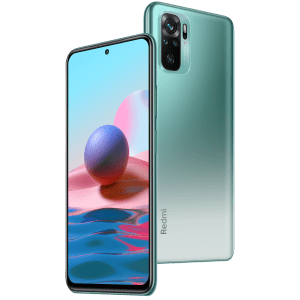 The Redmi Note 9 was not particularly convincing, we gave it a rating of 7/10. Xiaomi has probably learned from its mistakes and it must be said that the successor of this smartphone has largely seduced us, for a score that this time goes up to 9/10.
Indeed, the new Redmi Note 10 is excellent for a smartphone under 200 euros. It looks a lot like the old model, where we find the same central punch at the top of the screen, in a format almost identical to the old one with a diagonal of 6.43 inches for its screen. The latter also has the particularity of being Super AMOLED to finally bring infinite contrast technology to this price segment. It is quite simply the best panel at this price.
Performance side, it does not have to be ashamed with its Snapdragon 678 supported by 4 GB of RAM. This is obviously not a high performance setup, but it does allow you to perform a lot of tasks, like launching Fortnite. You won't play it in good conditions, but it's still interesting to note that it gets there where other smartphones in the same price bracket do not. The user experience will be perfectly fluid, and all the more pleasant when you know that this Note 10 natively embeds Android 11 with the new MIUI interface.
On the other hand, the photo is not his strong point. However, Xiaomi's new affordable smartphone is still doing well. It offers a 48-megapixel (f / 1.2) main sensor, an 8-megapixel ultra-wide-angle (f / 2.2), a 2-megapixel macro lens (f / 2.4) and a depth sensor. also from 2 megapixels (f / 2.4). A classic composition which allows good versatility on paper, notably with correct performances at night and in 48 megapixel mode, but which are counterbalanced by the uselessness of the macro and depth sensor.
A smartphone from the Redmi Note range would be nothing without good battery life and one that sports the same number as Zinedine Zidane is obviously no exception to the rule. The Redmi Note 10 has a 5,000 mAh battery that can easily last two days with intensive use, or even three if your use is really moderate. In addition, and this is very rare in this segment, the 33 W fast charger allows it to recover 80% in less than 40 minutes.
To find out more, do not hesitate to read our Xiaomi Redmi Note 10 test or watch our video on YouTube.
Our buying guide
In order to discover the other many references of the famous Chinese manufacturer, we invite you now to consult our guide to the best Xiaomi smartphones in 2021.