Want to keep your floors clean without lifting a finger? Let a robot do the work for you. The options are more efficient and affordable than ever, and here we bring you the best robot vacuums to help you choose the perfect one for your home.
Very full
9 /10
Automatic emptying system (optional)
Efficient and very precise
Well thought-out and complete application
When you're about to spend $ 500 (or more) on a robot vacuum, you want a small machine that sucks quietly and reliably. This is a product that should not be chosen at random, otherwise you will end up running behind it making sure it doesn't fall down the stairs or suck in what it shouldn't. It is therefore important to choose the right robot vacuum cleaner.
Several brands share the market, but some stand out more than others. Here are our recommendations for the best references to make robots work for you. Hoping they don't rebel too quickly.
If you are interested in the S6 MaxV, the first thing you should do is read the Roborock S6 review. Why ? Because the S6 remains a very interesting option, but above all, because the S6 MaxV incorporates everything that made the success of the S6.
Roborock has changed its robot vacuum cleaner on several points: it sucks better, because it is more powerful, with a suction announced at 2500 Pa maximum (against 2000 Pa on the S6). Under the hood, it has a Qualcomm APQ8053 processor that powers a function that allows it to avoid obstacles. Based on AI and front cameras, this function allows the MaxV to recognize certain objects and thus avoid them. Better yet, it clearly identifies them.
Its cameras are capable of making precise identification, but they also offer a surveillance function. This function can be activated remotely, including from the outside, to allow you to check if everything is going well at home, by remotely controlling your robot vacuum cleaner. This is clearly not essential, but it does come in handy.
You can use the Mi Home app, but we recommend the Roborock app instead. It allows you to take advantage of all the functions of the S6 MaxV with more regular updates.
Need more information ? If yes, our Roborock S6 MaxV test is here for that.
iRobot Roomba i7+
Very full
9 /10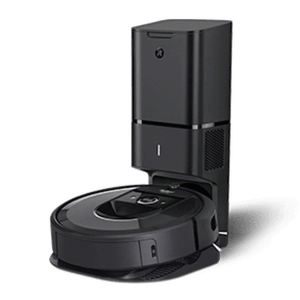 Automatic emptying system (optional)
Efficient and very precise
Well thought out and complete application
The iRobot Roomba i7 + is quite simply the Rolls-Royce of robot vacuums. It promises to intelligently simplify your daily life. To know his new environment on the tip of his double brushes, he embeds a camera to map the interior of your house / apartment. This makes it possible to create faithful maps and it is moreover capable of memorizing 10 different plans – to rename and edit at any time.
In addition, it adjusts automatically according to the type of floor (carpet, parquet, tiles, etc.) and even manages to circulate on uneven floors (a thick carpet, for example). However, unlike the other robot vacuums in this guide, it is not possible to follow it in real time on the app map.
From the iRobot Home app (available on Android and iOS), "vacuuming" is a snap. In your absence, you can schedule to clean a particular room at a specific time and even temporarily draw an additional virtual dividing line to prevent the robot from sucking in a specific location. He also learns from his mistakes to become more efficient on a daily basis, in particular by avoiding areas where he has already encountered problems so as not to make the same mistake on the next few passages or by carefully analyzing his work to know whether, yes or not, it must iron more deeply over an area to be cleaned.
Regarding autonomy, allow about 60 minutes. If this score is a little lower than the competition, the iRobot vacuum cleaner returns alone to its station to recharge. It will therefore clean your interior until the battery runs out, then charge itself before resuming its cleaning task at the exact place where it left off. The station can also empty the 0.4 liter vacuum cleaner bag – up to around 30 times according to our test.
Very complete, it is also compatible with Google Assistant and Amazon Alexa, just activate the iRobot skill and link it to your account. To learn more, do not hesitate to consult our detailed review of the iRobot Roomba i7 +.
It is also found at 999 euros with automatic dump station, there is also the Roomba i7 model (without the Plus) without a charging station.
Roborock S5 Max
The value for money option
The successor to the Roborock S50
Very complete and autonomous
Bonus mop function
The Roborock S5 Max doesn't perform as well as the iRobot Roomba i7 + or the Roborock S6 MaxV, but it too promises to make your everyday life easier. It also uses one of the key technologies on these products: a laser distance sensor. This technology has the merit of being more efficient than a camera, in particular by making it possible to delimit rooms more easily thanks to the detection of walls.
It incorporates a total of 12 sensors, including an ultrasonic sensor, a gyroscope, an accelerometer or even a compass. All this allows him to move in peace and analyze the smallest obstacles in his path. So yes, he can get stuck from time to time, but knows how to get out of many situations on his own. Its raised wheels are very practical to cross doorsteps or carpets for example.
Its 5,600 mAh battery allows it to do housework for two full hours, which represents more than 150 square meters cleaned in a single charge. Autonomy is therefore more comfortable than its high-end competitor. It's also capable of mopping the mop, though that doesn't replace a good big family cleanup.
As with most of the Chinese manufacturer's connected objects, everything is easily managed via the Mi Home application (available on iOS and Android). Like all Roborock robot vacuums, it is compatible with Google and Amazon assistants.
The Roborock S4 will be an equally effective option, but devoid of the mop function found on other Roborocks.
Some advice before buying
Before you buy a robotic vacuum cleaner, many questions may cross your mind. We have listed a few here with answers that we hope will light up your lantern.
Is the robot vacuum cleaner a gadget?
If you still have this image of the robot vacuum cleaner tangled in the cables or stuck under a chair … It is because you have chosen your robot vacuum incorrectly or because you do not have a young robot vacuum cleaner.
Robot vacuums no longer work like pool robots, which we respect, but bump all over the place, bouncing off walls in random directions. They are now methodical. They come and go in parallel lines to get the job done. The chair legs don't scare him, he walks around them carefully.
What are the important features on a robot vacuum cleaner?
Robot vacuums have evolved a lot in recent years. There are now key features and functions to avoid having an inefficient and clunky vacuum cleaner. The presence of a laser rangefinder, for example, allows you to have a real-time map of your interior. It's devilishly effective. Proximity sensors are there to prevent your robot from bumping into anything. Finally, the cameras associated with AI are now the most advanced functions of these robots which make it possible to avoid and identify obstacles.
Regarding the technical characteristics, check the capacity of the dust container as well as the autonomy of the devices. It is also important to check if the mobile application associated with the robot is up to date and simple to use.
Among the necessary and interesting functions, here are some things to check:
Different cleaning methods;
Amazon Alexa and Google Assistant compatibility;
The generation of maps with the possibility of adding boundaries, naming rooms and blocking them as needed;
Automatic recharging;
Safety technologies (for the stairs for example) and obstacle detection.
Will I still need to clean up?
Yes, but less often and differently. It is not a robot vacuum cleaner that will go under the sofa, unless your sofa is high enough, which will dust the furniture and change your sheets. In any case, these robot vacuum cleaners are not capable of it. You will still do less cleaning with a more targeted household that will take you less time.
What is the price of a robot vacuum cleaner?
This is a question that comes up often. You can find robot vacuum cleaners for 150 euros. However, a robot vacuum cleaner that will be really efficient for you on a daily basis requires a budget of at least 350 to 400 euros. This is the price of a Roborock S5 Max on sale for example.
Have robot vacuums evolved in recent years?
The answer is yes. The first generation of robot vacuums available on the market was really not convincing. The different models were above all designed to avoid obstacles. They would drive in a straight line until they hit something, then walk off at a random angle. In a way, it worked, but it wasn't particularly effective. The new models have better path planning for more methodical cleaning, with a slew of sensors to locate and steer freely in the environment. They are now able to gradually produce a map of your space, improving daily the path to take and its cleaning habits.
What brands of robot vacuums you can trust?
It seems logical, but you should generally not be fooled by the first prices. These low price references are often criticized for robot vacuum models which were, as explained above, not really convincing. They are generally devoid of so-called "smart" functions and will not allow you to effectively clean your living space.
It is better to put the price in a product whose manufacturers have acquired a certain know-how over the years, as is the case with iRobot, Roborock, Ecovacs and Neato. You will still need to clean up, but you will save a lot of time.
Do robot vacuums wash the floor?
Some robot vacuums have mop functions that allow you to wash the floor. However, this is an ancillary function, we advise you to invest in a dedicated mop robot if you have large areas to wash.