The sound bars have multiplied in recent years on the market. Offered by TV manufacturers like Samsung, Sony or LG, or audio specialists like Yamaha, Sonos or Bose. What are the best soundbars right now for your budget?
With increasingly larger televisions, the term "home theater" has never been more apt for your living room. Despite efforts in recent years, sound remains the poor relation of televisions.
Traditionally, the solution would have been to invest in an amplifier and half a dozen speakers to spread around the room. If this indeed ensures the best sound reproduction, we must admit that it is expensive and bulky, without even mentioning the cables that run in the middle of the living room …
The other choice, much simpler, is the sound bar which is positioned at the foot of the screen. Once far from convincing, they have made great progress in the virtualization of a surround sound space.
The latest models can simulate a sound environment in 3D using Dolby Atmos and DTS: X technologies and can integrate native compatibility with Google Assistant or Amazon Alexa to quickly stream music to your living room via your favorite streaming service.
Alone at the bar?
If the algorithms make it possible to recreate a sound image via virtualization, it is however impossible to emulate frequencies where there are none. This is particularly noticeable for bass, which often has a bit of trouble expressing itself in the relatively small size of a soundbar. The easiest way to remedy this is to add a subwoofer to it.
Certainly we lose a little on the "all in one" side, but these are generally quite compact. Small peculiarity all the same, they are specific to each brand or model. It is sometimes possible to recycle a traditional box, but this will involve more or less happy DIYs. We therefore advise against it.
Many models are available on the market and it can sometimes be difficult to navigate. We offer our recommendations based on your budget to help you choose the best soundbar for your living room.
And if you're looking for the best TVs around, don't hesitate to take a look at our guide.
Sonos Arc: the best high end
The Sonos Arc is the latest top model from the famous American manufacturer. As with the brand's other models, the Sonos Arc is perfectly integrated into the multiroom ecosystem that has made the brand's reputation.
8 /10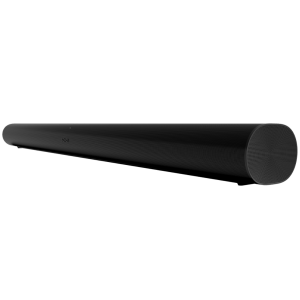 On the Arc, there are 11 class D amplifiers (5 for the Sonos Beam), 8 elliptical woofers (4 for the Sonos Beam) and 3 silk dome tweeters. This allows the soundbar to offer native compatibility with Dolby Atmos tracks, which provide 3-dimensional sound reproduction. This compatibility is made possible on the Arc thanks to two loudspeakers oriented towards the ceiling which will make it possible to obtain a vertical rendering of compatible tracks. The latter are more and more numerous and are found, in addition to 4K Blu-rays, on the majority of recent content available on SVOD platforms (Netflix, Prime Video, etc.).
The connections offered on the Sonos Arc are very simple: an HDMI eARC port (ARC compatible) which can be used optically with an adapter supplied and an optional Ethernet port – the sound bar can be connected via Wi-Fi We regret the lack of Bluetooth compatibility, but this is very often absent from Sonos multiroom products which can connect to most devices thanks to native Chromecast, Airplay and Spotify Connect compatibility. It is also equipped with a microphone to allow it to interact with Google Assistant or Amazon Alexa to play music or to offer the same interaction as with a Google Home or an Amazon Echo.
Even if it offers very good sound reproduction in standalone, it is fully compatible with the Sonos ecosystem to allow it to be integrated into a 5.1.2 Home Cinema configuration. To do this, simply associate it with two Sonos One SL speakers and one Sonos SUB subwoofer.
Why choose the Sonos Arc?
Excellent sound reproduction in all situations
Native Dolby Atmos compatibility
Long-term updates and an evolution to 5.1.2 Home Cinema possible
Google Assistant and Amazon Alexa natively integrated
Compatible Apple AirPlay 2, Chromecast et Spotify Connect
Where to buy the

Sonos Arc at the best price?
Yamaha MusicCast YSP-2700: bass answers the call
Released for a few years, this sound bar remains very interesting. Unlike brands like Sonos, Yamaha has not made particular efforts on the design, the bar is sober, not to say a little frustrating. Nothing to say, however, about the impeccable finish.

Main particularity of this model: it comes with a subwoofer. The latter is a cube 30 cm square; we saw more discreet, but it remains compact enough for most interiors. The connection is well supplied, with three HDMI inputs and an ARC compatible output. However, the bar shows its age a little here with only HDMI 2.0. Also present are optical, coaxial and analog RCA inputs. Wireless side we have the right to Bluetooth and Wifi. AirPlay and Sportify Connect are also in the game.
As for the sound, the spatialization technology is very effective, even if it will be necessary to be well in front to fully benefit from it. The subwoofer brings a welcome punch and deep bass. No problem with distortion as long as you don't push the volume to its limits.
While a little less connected than its competitors, this sound bar seduces us with its versatility and its solid quality / price ratio.
Why choose the Yamaha MusicCast YSP-2700?
Good sound rendering
Welcome subwoofer
Solid price / quality ratio
Sonos Beam: the best value for money
The Sonos Beam is another soundbar from Sonos that opts for a more compact format than the Arc. With this model, Sonos plays the connected card and offers a fairly unique solution on the market: it incorporates microphones that allow it to take advantage of native integration of Google Assistant and Amazon Alexa. Very practical for controlling the volume and its various devices connected by voice, it allows above all to do without a Google Home or an Amazon Echo.
The bar itself manages to offer very good sound reproduction, despite the small size and the absence of a subwoofer. It has four woofers which take care of the midrange and bass and a tweeter for the treble and dialogue. The result ? A very balanced reproduction with deep bass without distortion. Even if it is not compatible with the sound spatialization technologies of Dolby or DTS, it manages to offer very good surround rendering.
For connections, there is an HDMI ARC output which will be the only way to connect it to your TV, with or without an optical adapter. Once configured with the Sonos app, the bar is compatible with Apple AirPlay 2, Spotify Connect and can be used with the majority of smartphones and PCs via Wi-Fi to stream music or podcasts natively.
Like the Arc, it is fully compatible with the Sonos ecosystem to allow it to integrate into a 5.1.2 Home Cinema configuration. To do this, simply associate it with two Sonos One SL speakers and one Sonos SUB subwoofer.
To find out more, visit the complete test of the Sonos Beam by Numerama.
Why choose the Sonos Beam?
Very good sound reproduction
Compact and powerful
Google Assistant and Amazon Alexa natively integrated
Compatible Apple AirPlay 2, Chromecast et Spotify Connect
Sonos Beam is available on Amazon for less than 450 euros. An excellent quality / price ratio for this connected sound bar.
Samsung HW-T550 (2020): The best under 300 euros
The Samsung HW-T550 (2020) is a sound bar to which is added a wireless subwoofer that offers 2.1 sound reproduction. Very simple in terms of format, it is nonetheless effective by offering one of the best sound renditions available on the entry-level segment.
Its great strength is the rendering of its bass, which manages to be as deep as on much less accessible configurations. It does not offer Dolby Atmos or DTS: X rendering, but it undoubtedly offers better rendering than TV speakers, more powerful and without significant distortion at high volume. Remember that a good stereo rendering is worth 10 bad 5.1 or software Atmos renderings. It is equipped with an HDMI ARC port and a second HDMI port which can transfer a 1080p / 60 signal to the TV. No Chromecast or AirPlay compatibility in the program, but it can connect to any device via its Bluetooth compatibility.
It comes with a remote control that allows you to simply pair it with Bluetooth, change the audio source and control the content being played.
Why choose the Samsung HW-T550 (2020)?
Excellent value for money
A good 2.1 rendering with its wireless subwoofer
Its Bluetooth compatibility
La Samsung HW-T550 (2020) is displayed at less than 300 euros. Be careful to check that it is the right model before your purchase, the references of Samsung can sometimes be misleading in this segment.
Why choose a sound bar?
The speakers built into our televisions are often of poor quality, which is why it is worth investing in a sound bar. In addition to improving the sound rendering of films and music, sound bars allow you to simulate a rendering surround and can even be compatible with connected assistants to play music by voice.
Dolby Atmos, DTS: X: what is it for?
In recent years, there have been soundbars certified Dolby Atmos and DTS: X. These two fairly similar technologies make it possible to obtain 3D sound virtualization in order to offer deep immersion in compatible content. Compared to a classic 5.1 horizontal rendering, 3D virtualization allows you to add verticality to the sound to offer a more real rendering. We're starting to find Dolby Atmos content on Netflix, Amazon Prime Video, and 4K Blu-rays.
What is HDMI ARC?
To connect your sound bar to your TV, historically a jack or optical port is used. However, these connectors simply transmit an analog track from a source. HDMI ARC (Audio Return Channel) technology keeps the digital audio track from source to soundbar. It is therefore the bar that will take care of decoding and retransmitting digital tracks, compulsory to obtain Dolby and DTS sound. Small bonus: the volume of the sound bar can be regulated with the same remote control as the TV in a transparent way. In short, use it.