Chromebooks have become great alternatives to Windows laptops, but also to MacBooks. What are the best Chromebooks around? Find our complete selection.
From "netbooks" a little cheap For students, ChromeBooks have come a long way over the past ten years. If Google's high-end adventures (who still remembers the Google Pixel?) Have been a failure, third-party manufacturers have learned from these experiences.
The current ChromeBooks are more powerful and above all generally much better finished than their ancestors. Beyond their often attractive price, ChromeBooks are above all for them Chrome OS, a fast, easy to use and virus-free operating system. Perfect for children or grandparents therefore.
Nowadays they mostly use entry level processors from Intel. To see if the slap put to the industry by Apple with its Apple M1 processor will push Google to update its ChromeBook in ARM.
But if the hardware has made progress, it is especially on the software side that things have improved. From a glorified browser unable to run an offline word processor at launch, we have moved on to a real OS. Google is even ahead of Apple since it has been possible for several years to launch Android apps on your ChromeBook. These are not always perfectly suited to a specific use. laptop, but the vast majority of ChromeBooks use a touchscreen. Simple to use, virus free and inexpensive.
That said, think carefully about your uses: ChromeBooks are great machines for light office or media consumption, but you shouldn't ask them for much more. Also be careful if you have software or peripherals that you cannot do without. If so, an entry-level Windows PC will probably be a better choice.
Relatively popular in the United States, especially in education, ChromeBooks remain relatively private in our regions. The brands are therefore more cautious and do not launch their entire range with us.
We've sorted it out to bring you the best ChromeBooks around.
Acer Chromebook C514: The right price
With its all-metal construction, this ChromeBook offers a surprisingly good finish at this price point. If the colors of the screen lack accuracy, on the other hand we greatly appreciate the Full HD resolution and the matte touch finish which greatly improves readability.
The configuration surprises her in a good way. If the Pentium N4200 processor is very classic on this kind of machine, the 8 GB of RAM and the 128 of SSDs are less so. This allows very comfortable everyday use. Not to spoil anything, the autonomy reaches ten hours. Connection side is very classic with a headphone jack, two USB ports and a USB-C connector. Sold for 499 €, this Acer C514 stands out as one of the best value for money of the moment.
Asus Chromebook Pro Flip 14 : Chrome OS sans compromis
While ChromeBooks are typically entry-level machines, that's not always the case. With Chromebook Pro Flip 14, Asus offers a machine that is more of a high-end ultrabook than a small extra PC.
Here we find all the signs of a high-end machine: Full HD IPS panel with thin edges, stylus, backlit keyboard, Wifi 6. Same thing in terms of configuration, with a latest generation Core i5 accompanied by 16 GB of RAM. Suffice to say that Chrome OS runs at lightning speed. The autonomy reaches for its part the dozen hours. The requested 1150 euros may cool more than one, but if you're looking for the best of the ChromeBook, we simply do not do better.
The Acer Chromebook CB315 is fairly basic, but it has the merit of offering a beautiful 15.6-inch screen diagonal for a relatively low price for a minimum price since it is generally found under the bar of 370 €
To keep costs down, Acer chose a panel with HD definition only (1366 x 768 pixels) and a rather timid processor: an Intel Celeron N4020 with two cores clocked at 1.1 GHz base. You will however find 8 GB of RAM, which is quite comfortable. 64 GB of storage is planned, which is still enough for a Chromebook.
The connection is relatively complete with 2 USB-A, 2 USB-C, an SD card reader and a jack. However, we regret the absence of an HDMI connector which would have avoided having to invest in a USB-C hub to connect the machine to a screen or a television. Finally, note that Acer claims an autonomy of 10 hours.
HP Chromebook x360 12
The compact option
8 /10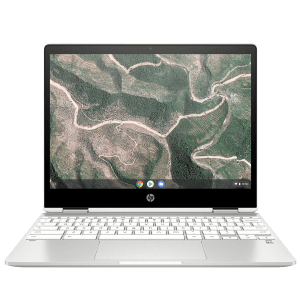 Compact 12-inch format
Also makes tablet with Android apps
Autonomy largely sufficient
The HP Chromebook x360 exists in a 14-inch version, but also with a 12-inch screen which will be our favor. We therefore find this swivel touch screen. But this time it is in 3: 2 format (with a definition of 1366 x 912 pixels), which makes certain uses more pleasant, in particular for surfing the web. On the other hand, it's a little less ideal for watching videos.
Its 12-inch diagonal also reduces the size and weight of the machine with its 1.3 kg, it will not weigh too much in a bag. It is powered by an Intel Celeron N4000 CPU supported by 4 GB of RAM which will be able to guarantee sufficient performance for most everyday tasks. You will finally be able to store your data in the 32 GB of memory.
Despite its small size, this 12-inch Chromebook x360 has a USB-C port and a USB-A port. A microSD card slot and a jack output are also present, no HDMI connector on the horizon however. Finally, we will appreciate its autonomy: count around 12 hours with office use. To learn more, you can check out our full review of the HP Chromebook x360 14.
Chromebook + Cloud Gaming = Perfect marriage?
Being primarily designed for web applications, ChromeBooks are the perfect candidates for cloud gaming use. No need for a beast of war to play a video stream!
Since the arrival of the Play Store on Chromebooks, the Shadow application is available on machines equipped with the Google operating system. Shadow is a solution of cloud gaming which allows you to use a powerful Windows machine to play games or perform heavy tasks via the Internet. The subscription is available from 12.99 euros per month and you can find the Numerama FAQ to know everything about Shadow and on the cloud Computing.
Besides Shadow, Nvidia also announced the arrival of its own cloud gaming, GeForce Now, directly on Chrome OS. Here again, you will therefore be able to access your Steam games directly on your machine, with a subscription available for free or from 5.49 euros per month to take advantage of certain features (priority access, RTX or longer game sessions). More expensive with its 10 euros per month, the house offer from Google is also available and compatible with ChromeBooks.
Despite their limited power, ChromeBooks can turn into powerful gaming machines as long as you purchase the right subscription.
FAQ
What is Chrome OS?
As the name suggests, Chrome OS is built around the Google Chrome browser and, therefore, all Google web applications like the Google Doc suite (equivalent to Microsoft Office). On a Chromebook, they can be used without an internet connection. The system is particularly simple and therefore works well on machines with a light technical sheet. This also allows you to have a PC with a limited storage capacity, since the majority of documents will be synchronized with Google Drive: 100 GB of additional storage offered for the purchase of a Chromebook.
What can I do with a Chromebook?
In short, Chromebooks are mainly machines dedicated to office uses: word processing, spreadsheets, etc. via the Google suite of applications. You will be able to enjoy all the content available on the web via browser, Netflix and other services of SVOD, YouTube, etc., but not run regular PC games.
On the other hand, Chromebooks are now compatible with the Play Store, which allows them to install the majority of Android applications and therefore to be more versatile than in the past. Finally, Google Assistant has also recently been available on Chrome OS and allows you to perform voice commands with the famous "Ok Google". Finally, some Cloud Gaming services are also available on ChromeOS like Nvidia GeForce Now.