The Lenovo Smart Clock is the perfect companion for your nightstand. It is unobtrusive, easy to use and adds the presence of the Google Assistant in your room. It is now on sale at only 39.99 euros instead of 89.99 euros when it was launched.

The Lenovo Smart Clock's compact size makes it essential for any connected installation. From your room, you can then deactivate all your connected objects before going to bed and easily plan a wake-up call for the next day, with your voice or with a simple finger via its touch screen. Often out of stock because of the many promotions on this product, it is now back at half price after a 55% discount.
The Lenovo Smart Clock at a glance
The elegant fabric design
Google Assistant and all its benefits
A small 4-inch screen, but very practical
Instead of 89.99 euros at its launch, the Lenovo Smart Clock is currently available on sale at only 39.99 euros on the Boulanger website.
Find out more about the Lenovo Smart Clock 👇
9 /10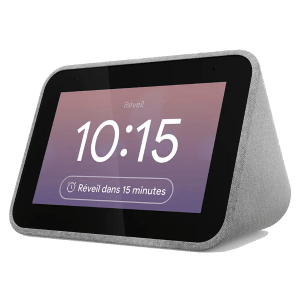 The Lenovo Smart Clock is a classic Smart Display, but which has the vocation to find its place on the bedside table of your room thanks to its very compact size. Its screen is only 4 inches and above all allows you to interact with Google Assistant in a different way than with your voice.
It is obviously possible to display some information on the screen, such as the time, the weather, but also videos via YouTube. Its definition of only 800 x 400 pixels does not affect the visual quality, which is more than sufficient for an IPS LCD panel of this size.
This connected alarm clock also borrows many elements from Google, such as this fabric design strongly reminiscent of the connected speakers from the Nest range of the Mountain View firm. On the software side, there is also the OS Smart Display from Google to navigate the menus directly from the screen. It is clear and easy to access.
Other features make the Lenovo Smart Clock an essential object, such as its USB port on the back that allows you to plug in a device to charge it, such as a smartphone or other. And it's very practical so as not to clutter the socket next to your bed.
To find out even more, do not hesitate to read our review of the Lenovo Smart Clock.
---
Offer no longer available?
If the offer mentioned in this article subsequently becomes a victim of success, please take a look at the table below to find other offers regarding the Lenovo Smart Clock.
The alternatives
If you do not want to have a screen in your room, then you can go to a small connected speaker and you will find several references in our dedicated buying guide.