The Xiaomi Mi Smart Band 5 is the latest connected bracelet from the Chinese brand. As Black Friday approaches, its price drops by 10 euros at Fnac: it drops from 49 euros to 39 euros.

Officially launched last July, Xiaomi's latest connected bracelet, the Mi Smart Band 5, has a larger screen than that of its predecessor, and includes several new features such as menstrual cycle tracking or even the display of more. real-time statistics. Although its launch is still quite recent, this does not prevent Xiaomi from offering a very nice offer.
In short
A 1.1 inch AMOLED display
Complete activity monitoring
A large autonomy of 14 days
Usually offered at 49 euros, the Xiaomi Mi Smart Band 5 is now available at 39 euros.
Also note that the previous model, the Xiaomi Mi Smart Band 4, also benefits from a promotion which increases it from 39 euros to 24 euros.
Find out more 👇
Unlike the old Xiaomi Mi Smart Band 4 model, the Mi Smart Band 5 connected bracelet has a larger AMOLED panel: 1.1 inches, compared to 0.95 for that of its predecessor. However, the design remains much the same, with an elongated screen and a comfortable rubber strap. Another small notable difference: the addition of several animated clocks from licenses like SpongeBob, Detective Conan or Neon Genesis Evangelion.
8 /10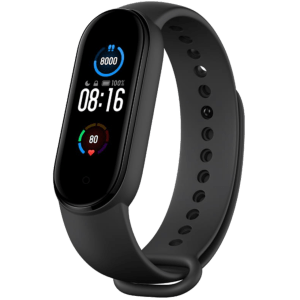 On this screen with a definition of 126 x 294 pixels, you will be able to see a wealth of information displayed, including your messages. But this bracelet interests us above all for its personalized monitoring of activities. The Mi Smart Band 5 recognizes no less than 11 types of physical activity, including skipping rope, yoga, rowing, elliptical trainer and running. It will thus tell you the duration of your workouts, the number of heartbeats per minute or the number of calories you will have expended during your sports session.
In addition, the Mi Smart Band 5 also offers sleep tracking (handy for indicating the phases of deep sleep) and incorporates a more accurate and optimized heart rate sensor. But this connected bracelet also offers a new mode of monitoring the menstrual cycle, as Fitbit and Apple did. The results can be synchronized and analyzed on the Mi Fit application, available on iOS and Android.
Among its other features, we also note the possibility of controlling the camera of your smartphone from the bracelet, as well as the arrival of a magnetic charger. This plugs into the back of the device using two electrodes, which will prevent you from having to remove the Mi Smart Band 5 case to recharge it. Speaking of autonomy, that of the Chinese bracelet is simply excellent: thanks to its 125 mAh battery, you can easily last two weeks without needing to charge it.
For even more details, do not hesitate to consult our full review of the Xiaomi Mi Band 5.
THE OFFER IS NO LONGER AVAILABLE?
If, subsequently, the offer mentioned in this article is no longer available, please take a look at the table below in order to find other offers concerning the Xiaomi Mi Band 5.
Black Friday – Black Week: all you need to know
Let's be honest: Black Friday dates are pretty confusing this year. Originally scheduled for November 27 and usually preceded by Black Week, it spans a wider period this year. Each e-merchant and brands communicate about the event in their own way but come together on activations of joint offers during dates agreed in advance: it is these that we consider to be the Black Friday offers. Also note that some merchants may postpone offers on Cyber ​​Monday week.
Throughout the period, the Frandroid team will select the best good deals available through different selections:
The best Black Friday deals
Good plans in detail