Marketed since the summer of 2020, the Asus ROG Phone 3 is resolutely turned towards gaming, while being pleasant to use for classic everyday tasks. Currently, a pack including this smartphone, a support and a screen protection is discounted at 899 euros instead of 1,045 euros at Fnac.

With its Asus ROG Phone 3 smartphone, released in August 2020, the Taiwanese brand has succeeded in offering a highly powerful gaming smartphone, but also suitable for everyday use. It will therefore be perfect for players who want to acquire a versatile and powerful smartphone. Precisely, to buy it, it is the ideal time since the pack including the Asus ROG Phone 3, a ROG clip holder and a tempered glass screen protector currently benefits from a 14% reduction on its original price.
In short
A 6.59-inch OLED display refreshed at 144 Hz
A powerful Snapdragon 865+
Huge 6000mAh battery
Usually offered at 1,045 euros, the Asus ROG Phone 3 pack + ROG clip holder + tempered glass screen protector is currently available at 899 euros at Fnac and at Darty.
Find out more 👇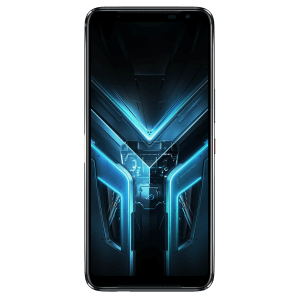 The Asus ROG Phone 3 (ROG for "Republic of Gamers") takes the characteristic gaming design of previous models, with of course the luminous logo placed on the back of the smartphone. The screen is framed by two wider borders at the top and bottom: a speaker is tucked into each of it, and a front photo sensor is hosted on the top one, which allows the screen to not not be parasitized by a punch or a notch.
This ROG Phone 3 has a very beautiful 6.59-inch AMOLED screen with a Full HD + definition of 2340 x 1080 pixels, which also has the advantage of offering a refresh rate of 144 Hz. display of images will therefore indeed be there, an essential point during game sessions. Add to that a response rate of only 1 ms, which will limit delays in the sequence of game actions .
In terms of performance, this 512 GB smartphone is powered by Qualcomm's Snapdragon 865+ SoC, supported by 12 GB of RAM. This high-end chip is not only 5G and Wi-Fi 6 ready, but it will provide excellent power and run heavy-hungry games smoothly, even at Ultra. Note also the improvement of the AirTriggers, which now have a motion sensor that will allow you, for example, to control your actions by simply tilting the smartphone. Ultrasonic touch sensors, which can be assigned to various game actions, are always in the game. ROG Phone 3 also features key duplication, much like the L1 / L2 and R1 / R2 keys found on standard console controllers. In short, the third generation of the Asus ROG Phone has been designed to get as close as possible to the experience of a classic console.
For gaming-oriented smartphones, autonomy is an essential criterion to take into account. On this point, the ROG Phone 3 does not disappoint with its large battery of 6000 mAh, thanks to which players will be entitled to a period of use of almost two days, depending on use. Software improvements have been made to automatically adapt to the use that will be made by the users. The smartphone can, for example, be adjusted according to your needs (screen brightness, privileged connectivity, etc.). In addition, a 30W HyperCharge charger is supplied with the phone.
Finally, the brand wanted to offer a smartphone suitable for daily use, excluding gaming: we will therefore find a versatile triple photo sensor on the back, rather rare on a smartphone of this type, with a main sensor of 64 megapixels, a 13-megapixel ultra-wide-angle and 5-megapixel macro mode. The ROG Phone 3 can even shoot up to 8K at 30 frames per second.
For a more extensive overview of its features, do not hesitate to read our Getting Started with the Asus ROG Phone 3.
THE OFFER IS NO LONGER AVAILABLE?
If the offer mentioned in this article is subsequently no longer available, please take a look at the table below to find other offers for the Asus ROG Phone 3.
Black Friday – Black Week: all you need to know
Let's be honest: Black Friday dates are pretty confusing this year. Originally scheduled for November 27 and usually preceded by Black Week, it spans a wider period this year. Each e-merchant and brands communicate about the event in their own way, but come together on activations of joint offers during dates agreed in advance: it is these that we consider to be the Black Friday offers. Also note that some merchants may postpone offers on Cyber ​​Monday week.
Throughout the period, the Frandroid team will select the best good deals available through different selections:
The best Black Friday deals
Good plans in detail