Announced at the end of 2020, the MacBook Air M1 is the first ultraportable from Apple to embed the Apple M1 chip, which promises tenfold performance and autonomy. Launched at 1,129 euros, it is now available at 1,029 euros.

Apple formalized it last November at a conference: its new MacBook Air would be equipped with the Apple M1 chip, based on an ARM architecture, which would ensure a large gain in power and increased autonomy.
In short
The excellent performance of the Apple M1 chip
An autonomy of more than 15h
An ultraportable without fans
Previously priced at 1,129 euros, the Apple MacBook Air M1 is now sold at 1,029 euros on Amazon, Fnac but also Boulanger.
Find out more 👇
8 /10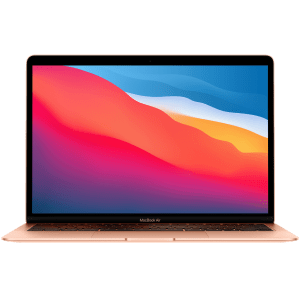 At first glance, the design of Apple's MacBook Air M1 does not differ from its predecessor: we will find the same aluminum chassis and a similar keyboard. As always, this MacBook incorporates a Retina True Tone screen, here 13 inches, but it has the advantage of being compatible with a very wide range of colors (P3), which will be particularly practical for photo processing or video editing.
But above all, the main change is inside the machine. The Apple brand has definitely got rid of Intel Core processors to swap them against the Apple M1 chip, based on an ARM architecture, which quite simply offers increased performance. Concretely, it integrates all the components, namely the processor, a graphics chip, a modem and others. Its 8-core CPU promises, according to the brand, a power 3.5 times greater than an old model under Intel. As for its 7-core GPU, graphics performance would be multiplied by 5. With such a configuration, office tasks will run smoothly, as will video or photo editing for creative people.
Autonomy has also been considerably improved: up 50% compared to the previous generation, it would reach around fifteen hours in web browsing, and 18 hours in video. In short, it will allow you to put the charger aside during your working day. Another significant advantage: this new MacBook Air consumes less than the old models, so much so that the brand has not integrated fans. The ultraportable will therefore be very silent.
In addition, the transition from an X86 (Intel) to ARM architecture requires rewriting the applications. To facilitate this transition, a compatibility mode that can run X86 applications will be available. These non-native applications will therefore work thanks to the Rosetta 2 emulator. And this technique is conclusive: the software runs quickly and without slowing down.
Finally, note that this MacBook Air has a 256 GB SSD, advertised as twice as fast as the old generation, and 8 GB of RAM to complete the whole.
THE OFFER IS NO LONGER AVAILABLE?
If the offer mentioned in this article is subsequently no longer available, please take a look at the table below to find other offers for the Apple MacBook Air M1.
For further
In order to discover the competition of the MacBook Air M1, we invite you now to consult our guide to the best laptops of the moment.