The Huawei Mate 30 Pro is a concentrate of power, technology and photographic know-how. A little gem that is only marred by the absence of Google services. However, despite this it remains very attractive if you are looking for an exceptional cameraphone, at a great price, it is here with a price drop of 493 euros!

Discreetly released last year, the Huawei Mate 30 Pro is a very successful high-end smartphone and the first from the Chinese house without Google services. However, this does not take away any of its technical qualities and Huawei is setting up a software ecosystem that is becoming more and more complete. For Black Friday, he takes advantage ofa reduction of 47%. It's almost half the price!
In short
A very high level of design and quality of finish
An excellent camera, just like the screen
Top-of-the-range performance and autonomy.
To get the Huawei Mate 30 Pro at the best price, just take advantage of the Black Friday offer which drops it from 1042 euros at 549 euros on Amazon.
Find out more 👇
7 /10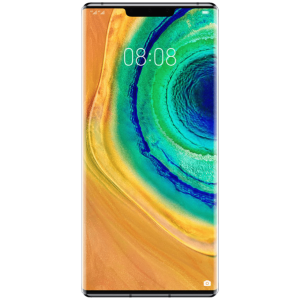 Difficult to resist the Huawei Mate 30 Pro, its design brings together everything that a customer looking for a high-end product can look for. Thus, we have a sublime glass back that plays with delight with the ambient light. The 4-optic photo module is placed in the center of a circle made of a glass different from the rest of the shell, a touch of style in its own right. Turn it over to discover one of the most immersive screens on the market with this superbly curved panel, which only the notch taints in its purity. The whole is very pleasant in the hand, but we do not understand why the dedicated volume buttons have disappeared.
Let's come back to the screen, 6.53 inches diagonally in OLED with a definition of 2400 x 1176 pixels. It is very bright which allows it to be used even in direct sunlight. The colorimetry is really beautiful, you just have to play with the color temperature to obtain the most natural rendering. This done, it's a treat from start to finish, even though it's only 60Hz.
On the power side, the Kirin 990 is at the heart of the Huawei Mate 30 Pro, supported by 8 GB of RAM and a Mali-G76 GPU. The whole thing simply gives a smartphone with first rate performance and which in use is really pleasant. Everything is fluid, from multitasking to apps and the most demanding video games. Finally… those that are available.
Indeed, no Google Services here, the OS is based on Android, but signed Huawei. In use, nothing changes; we have the same graphic interface as the manufacturer's other smartphones. What will block it is the use of all the apps exploiting GPS for example and exploiting Google APIs. Huawei offers its own alternatives and has launched its own app store. If it is far from perfect, we find the essentials, except the apps of American companies that respect the embargo of the Trump administration. Huawei gets around this with an APK directory, Petal Search, to find all the apps you need on the internet. And, although this is not recommended by the manufacturer, it is still possible to install Android and Google services.
As for photography, you will have at your disposal a 40-megapixel main sensor, a 40-megapixel ultra-wide-angle, an 8-megapixel x3 telephoto lens and a TOF sensor to manage the depth of field. Equipment that makes the Huawei Mate 30 Pro a very versatile product that delivers accurate shots with very pleasant details. The Hybrid Zoom is quite spectacular and the night mode will make you see details that your eyes cannot perceive.
Do not hesitate to consult our detailed test of the Huawei Mate 30 Pro to find out more.
---
Offer no longer available?
If the offer mentioned in this article is subsequently no longer available, please take a look at the table below to find other offers for the Huawei Mate 30 Pro.
Black Friday 2020: all you need to know
Black Friday: when does Black Friday 2020 take place?
Black Friday has been postponed to 2020 from Thursday 3 December 2020 at 5 p.m. until Monday 7 December 2020 at 11.59 p.m. E-merchants will offer their best offers over this period in several waves: Thursday evening, Black Friday Friday, the weekend and Monday, December 7, which will close the event with the last destocking.
Black Friday: which e-merchants are taking part?
Black Friday: how to be informed of new offers?
Frandroid will carry special Black Friday coverage throughout the event period. We only and independently select the best Black Friday deals as soon as they become available, presenting you with complete transparency what made our choice. You can also find the selection of the best Black Friday offers from Numerama. To not miss any offers until Monday, remember to follow us on our Twitter Frandroid Bons Plans and activate notifications so you don't miss a thing!