The Nintendo Switch Lite Turquoise + Animal Crossing is the perfect accessory for a post Christmas and New Year cocooning. Especially when this pack usually at 269.99 euros is offered 199.99 euros on Amazon. You can even compete against players from all over the world for free, with a 3-month subscription offered to online services.
It's cold, it's raining, an ideal time to stay warm. It will be even better with a hot chocolate and a Switch in your hands to wander through Animal Crossing for example. Why just imagine this scene? It can become reality with this Nintendo Switch Lite Turquoise + Animal Crossing, which benefits from a great promotion of -26% on Amazon.
In short
A proven game console
A reference game library
The very Animal Crossing color variation
The Lite version of the Nintendo Switch does not connect to your TV, it is a 100% portable machine. This explains a lower price than the original console and does not detract from the technical capabilities of the machine. The experience is close with a lower weight in the hands. The most economical way to taste the Nintendo Switch game library becomes even more interesting with 70 euros less, either 199.99 euros on Amazon, with a 3-month online subscription bonus.
Find out more 👇
8 /10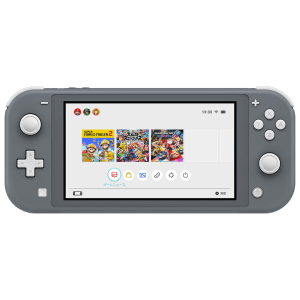 With a design almost identical to that of the Switch, the Switch Lite is a very attractive and reassuring console. While its big sister weighs 402 g, the Lite version displays 273 g on the scale and is a bit more compact. This is mainly due to the move from a 6.2-inch to 5.5-inch screen, both being 720p.
Warning: here no detachable joy-con, therefore no possibility to play two on the same console. This is a portable console only, no HDMI, no more kickstands and only 32GB of storage. The purchase of a microSD card may therefore quickly become vital.
Past that, we simply have one of the best video game consoles out there. By design and especially its game library with access to all Nintendo licenses. Hours of play in complete freedom, especially since the Lite has greater autonomy than its big sister.
Finally, here you enjoy a turquoise dress as soft as it is seductive, the Animal Crossing game and a 3-month subscription to online services.
Do not hesitate to consult our detailed test of the Nintendo Switch Lite Turquoise to find out more.
---
Offer no longer available?
If the offer mentioned in this article is subsequently no longer available, please take a look at the table below to find other offers concerning the Nintendo Switch Lite Turquoise.