The Google Nest Hub is a connected display that doubles as a smart speaker. It aims to become the central object of your connected home, without breaking your budget during the sales. It goes from 129 to only 59 euros on Rue du Commerce.

The Google Nest Hub is one of the best Smart Displays on the market. It is simple to use and allows you to take control of all your connected objects with your fingertips via its touch screen or using your voice thanks to Google Assistant. We find it at half price for the winter sales 2021.
In short
An easy to use OS
The many features
Good sound and display quality
Instead of 129 euros at its launch, the Google Nest Hub with its 7-inch screen is available today on sale at only 59 euros on Rue du Commerce.
Find out more 👇
9 /10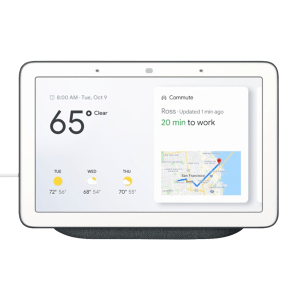 The Google Nest Hub is designed as a central device in the house to control your various connected objects via Google Assistant. It allows you to interact with the latter in several ways, by voice or by using the touch screen.
Its 7-inch screen displays a definition of 1,024 x 600 pixels. It's not Full HD, but it still allows it to display videos through YouTube, or even stream content from a smartphone / tablet thanks to the Chromecast feature.
Its OS offers above all a simple and readable interface from a distance to easily control your various connected objects. Everything is controlled with a tap of the finger, or obviously with your voice thanks to the integrated microphones. Google Assistant will take care of all your requests, even to put music on the speaker attached to the back via your YouTube Music, Spotify, Deezer account, etc.
It also allows calls to be made through various instant messaging applications. He can also receive video calls, but can only participate by voice. Too bad, because the Google Nest Hub does not integrate a camera on the front, which does not allow it to use Google Duo for example.
To find out more, read the Google Nest Hub test in our columns.
---
Offer no longer available?
If the offer mentioned in this article is subsequently no longer available, please take a look at the table below for new offers regarding the Google Nest Hub.
2021 sales: all you need to know
Dates: when does the 2021 Winter Sales take place?
The Winter Sales 2021 have been postponed to Wednesday January 20, 2021 at 8 a.m. until next Tuesday February 16. As every year, e-merchants will offer several markdowns that will take place every week on Wednesday.
Sales: how to be informed of new offers?
Frandroid will carry special coverage of the Tech Sales throughout the event period. We only and independently select the best deals from the Winter Sales as soon as they become available, presenting you in full transparency what made our choice.
To not miss any offers, remember to follow us on our Twitter Frandroid Bons Plans and activate notifications so you don't miss a thing!