Are you looking for an action camera capable of following you in your sporting exploits? Here are our recommendations.
The best action cams in brief
The top
9 /10
4K images at 60 fps
Practical accessory attachment system
Electronic stabilization at the top
L'option 360
8 /10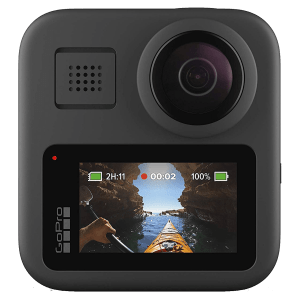 360 ° video
GoPro quality
Amazing possibilities for editing
After a very prosperous period a few years ago, the enthusiasm around action cam calmed down a bit. The market is not dead, however, but it is clearly less diverse than before. A leader in strong competition at the time, GoPro managed to maintain its position and there is little left but DJI which still dares to offer alternatives.
This domination of the market by the American is not without advantages, in particular as regards accessories. A large ecosystem of bindings, boxes and other batteries has been created around the brand's products and we no longer need to sell a kidney for an additional battery. DJI even benefits from it since its mounting system is compatible with that of GoPro.
Before investing, ask yourself the question of what use you will have of your camera. If it only comes out once a year for the holidays or if it accompanies you on all your extreme hikes, it is not necessarily the same characteristics that will be important to you.
Overview of the best action cameras on the market.
GoPro Hero 9 Black
The top
9 /10
4K images at 60 fps
Practical accessory attachment system
Electronic stabilization at the top
Although it doesn't really have a competitor anymore, GoPro religiously continues to update its cameras every year. First observation: this Hero 9 is much more impressive than the previous model. In addition to revised upward measurements, it also gains 32 grams on the scale. As on the Hero 8, the mounting rods are now integrated and retractable (and easily replaced in case of damage).
A small color screen is also installed on the front, handy for checking the framing when filming.
On the video side, the main novelty lies in the appearance of a 5K mode at 30 fps. A function that will especially interest the pros who can crop while keeping a 4K result. The 20-megapixel sensor also allows for much better quality photos, although a smartphone will always do better. The extension module system is still present and with in particular a very interesting ultra wide-angle of 155 °. Too bad it costs the tidy sum of 100 euros.
The software stabilization "Hypersmooth" is here in version 3.0 and gains without surprise in efficiency. The horizon remains perfectly stable in all situations and whatever the resolution. In some cases the stabilization is also a little too powerful, transforming a frenzied mountain bike descent into a peaceful Sunday ride. Do not hesitate to reduce it in the settings to keep the intensity in your sequences.
The Hero 9 also adopts new batteries offering 30% more capacity. It's nice, but in return your old batteries will no longer be compatible. However, we gain in passing a rigid transport case and compatibility with the gigantic ecosystem of official accessories or not. Note that GoPro offers a reduction of 150 euros and accessories if you subscribe to its online storage service. No reason therefore to buy it alone. Head to our test for a complete overview and videos!
If your budget is smaller, GoPro has the good taste to keep its previous vintages in the catalog while lowering their price. The Hero 7 Black, released in 2018, remains very relevant. It is indeed capable of filming in 4K at 60 fps and producing Full HD slow motion at 240 fps.
Unlike the Hero 9, HyperSmooth stabilization is only here in version 1. For amateur use, however, this is more than enough.
Main weakness of this model: its autonomy, which barely reaches an hour in 4K 60 fps. In other words, buying several additional batteries so as not to get stranded during the outing is essential. On this generation, the manufacturer has also added the possibility of making Facebook Live. The result is quite unconvincing since the resolution is limited to 720p and any broadcast will simultaneously melt the battery of the camera and your phone.
Note that its age means that many props manufacturers offer a full range of products to accompany it. Enough to save a lot of money if you don't want to pay the full price for official accessories. The Hero 7 Black will therefore be the choice of reason for the vast majority of users. For the complete test accompanied by example videos, it goes there.
Best known for its drones, DJI has also entered the action camera market with Osmo Action. It is very clearly aimed at the Hero 8 Black with its similar characteristics: 12 Mpx sensor, 4K at 60 images per second, waterproof to 11 meters, etc. Originally marketed in the same price bracket as GoPro, it is now available at 249 euros, which makes it the best value for money on the market, by far.

If the screen at the front is no longer an exclusive, the Hero 9 is now equipped, the latter still greatly facilitates the framing. However, this screen is not touch-sensitive. It also displays some practical information. The camera is also electronically stabilized with technology Rocksteady view of the brand's drones. We can therefore trust him, even if l'Hypersmooth of GoPro remains more efficient.
In the image, DJI's know-how is there, but we especially appreciate the "Dewarp" mode which eliminates the deformations inherent in the use of a wide-angle sensor. This one is also rather effective. For sound DJI only offers two microphones, so it will do slightly worse than the Hero 8 Black. In addition, it is compatible with GoPro accessories.
To know everything about the camera, head to our test of the DJI Osmo Action.
GoPro again to finish with a rather special proposal: the GoPro Max. This has the particularity of filming at 360 °. It is particularly appreciated for the sports of tricks like skateboarding or snowboarding, but the possibilities are endless. Because in addition to the 360 ​​° video as such, it allows you to frame exactly what you want during editing.

It is based on the GoPro Hero 8 Black, with in particular the two mounting brackets always practical. What sets it apart is the presence of two ultra-wide-angle lenses which allow 360 ° filming: the two videos are automatically glued together to offer the complete sphere… minus the camera itself, removed from the field by the software.
In practice, the camera films in 5.6 k at 360 ° in 30 images per second. Please note, however, this definition is not comparable to classic 4K in 16: 9 since it results from the assembly of two video streams. In classic mode, you will be able to shoot in 1440p at 60 fps or less. For sound, GoPro relies on 6 microphones, again in order to capture it at 360 °.
To find out more, you can read our GoPro Max review.
Where to buy the

GoPro Max at the best price?
For further
Why isn't there an action camera for less than $ 100?
There was a time when there were entry-level action cameras, including the Yi Lite. Unfortunately, the latter is no longer marketed. We must therefore face the facts, there is no "cheap" action camera that we can recommend today.
Of course, you will surely find great promises of 4K cameras for less than 100 euros on marketplace more or less opaque, but we do not recommend them. You might be disappointed. However, if you know of a model that we have missed, you can tell us in the comments. We will try to test it before including it in this guide, if it deserves it.
Which definition to choose?
While most models today handle Full HD (1080p) at 60 frames per second without any problem, the handling of 4K is a little more uncertain. The high-end models are capable of filming in 4K at 60 frames per second, but the average is more around 30 frames per second in this definition. A detail that we forget, but which should not be overlooked: the size of the files then swells very quickly. So remember to equip yourself with an SD card of at least 64 GB, 128 or more preferably, if you plan to film for a long time.
Do I absolutely need accessories?
With some models sold for several hundred euros, the price of an action cam remains a criterion to be seriously considered. Especially since it is not uncommon for a single camera to require a certain number of accessories, often sold separately, to use it fully. We think, for example, of the different fixings that allow it to be hung on a helmet or a suit, or of any protective boxes that will prevent scratches and make your camera waterproof if it is not already. Buying these accessories may inflate the initial price, but the cost can still be spread out.