The Sony Xperia 1 II is the latest flagship of the Japanese manufacturer, which is making a remarkable comeback in the smartphone world. Its very powerful and atypical Xperia 1 II benefits from an exceptional discount of 300 euros at Fnac and Darty.

The Sony Xperia 1 II is one of the last flagship of the year 2020, which explains, among other things, its high price of 1199 euros. If a smartphone with a superb screen, gifted in photos, overpowered and with a unique design on the market appeals to you. So be happy, it is right now at -25%.
In short
Screen quality
Performance at good levels
Camera designed for experts
In this promotional period, the Sony Xperia 1 II is available not at 1199 euros, but at 899 euros at the Fnac and Darty.
Find out more 👇
7 /10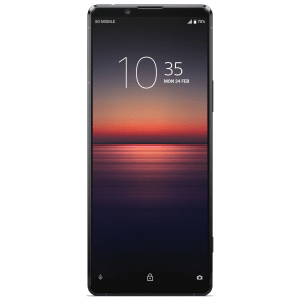 Sony has decided to stand out with this superb Xperia 1 II. Already through design, which goes against current trends. Thus, we have a glass monolith with straight lines, the screen is not curved and nor borderless. This last point is the one that marks the most on such an expensive product, but on the other side we have neither notch nor punch. Its 21/9 format gives it an atypical silhouette, all in length, with dimensions of 72 x 166 x 7.9 mm for 181 g. Unlike its 6.5-inch competitors, it is much narrower. Small hands will be able to grasp it easily, something almost impossible with an 18/9 equivalent.
The screen is a 4K OLED whose definition reaches 643 ppi. Nothing to say, it is well calibrated, offers an infinite contrast ratio, the brightness is there and the colorimetry is perfectly controlled. A perfect support for BD players, movie buffs or fans of 4K HDR series. However, users less sensitive to this argument will regret the refresh rate of 60 Hz. The competition easily offers 90 Hz when it is not 120 Hz. This choice of Sony is quite surprising, especially since this density of pixels per inch on a 6.5-inch diagonal is far too high for the eye to tell the difference from another screen above 400 dpi. The orientation is clearly cinema, as evidenced by native playback of 4K videos at up to 24fps.
The technical sheet has something to do with a Snapdragon 865, 8 GB of LPDDR5 RAM and 256 GB of UFS 3.1 storage expandable by microSD card, up to 1 TB. Suffice to say that the notion of slowing down is something unknown for this smartphone . Ditto in 3D video games, which with maximum details, remain very fluid.
Sony integrates three sensors into its Xperia 1 II, a 12 MP equivalent to 16 mm, a telephoto lens in 12 MP and a wide-angle also at 12 MP. The basic photo in the middle of the day is not a problem, we have a very good colorimetry and a sharpness well above average. On the other hand, it is the smartphone which automatically chooses which lens to use. Second, they are not meant to work together and complement each other. This explains the absence of hybrid zoom, here it is only 2x in optical and 3x in digital with loss of information. Then, no night mode, in a well-lit environment, a street, a square for example, we get rather detailed pictures. But as soon as the light goes down, you have to make manual adjustments. Then, the photo app is really designed for photo pros and is similar to what Sony offers on its DSLRs. This is therefore extraordinary for the pros of the photo who will be able to get the most out of this Xperia 1 II. These will work miracles with it, the general public will feel a little lost.
The autonomy exceeds the day without effort and can even reach two days if you are reasonable in its use.
Do not hesitate to consult our detailed review of the Sony Xperia 1 II to find out more.
---
Offer no longer available?
If the offer mentioned in this article is subsequently no longer available, please take a look at the table below to find other offers concerning the Xperia 1 II.
Black Friday – Black Week: all you need to know
Let's be honest: Black Friday dates are pretty confusing this year. Originally scheduled for November 27 and usually preceded by Black Week, it spans a wider period this year. Each e-merchant and brands communicate about the event in their own way, but come together on activations of joint offers during dates agreed in advance: it is these that we consider to be the Black Friday offers. Also note that some merchants may postpone offers on Cyber ​​Monday week.
Throughout the period, the Frandroid team will select the best good deals available through different selections:
The best Black Friday deals
Good plans in detail