The Lenovo Duet is a hybrid tablet running Chrome OS. Delivered with a keyboard, it can then be used like any Chromebook. The model with 128 GB of storage goes from 349 to only 299 euros, the same price as the 64 GB version.

The Lenovo Duet is not a hybrid tablet like any other. It has the particularity of running on Chrome OS, Google's operating system for Chromebook, to finally come closer to a PC experience than on Android or Apple tablets. Take advantage, it is currently available with 50 euros reduction.
In short
The 10.1 inch touchscreen
Comfortable 10-hour battery life
The many features in Chrome OS
Instead of 349 euros, the 128 GB version of the Lenovo Duet Chromebook hybrid tablet is currently on sale at only 299 euros on Boulanger. Namely, it is the same price as the 64 GB model.
Find out more 👇
8 /10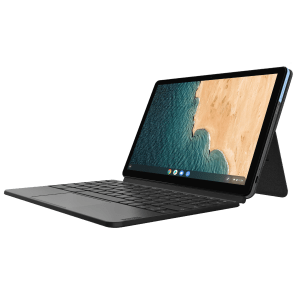 The Lenovo Duet Chromebook is a hybrid tablet that comes by default with a detachable keyboard. It weighs 450 grams on its own and nearly 920 grams with its favorite accessory. Its design is rather classic, with rounded edges and rather conspicuous black borders around the screen. The 10.1-inch diagonal touchscreen displays Full HD definition, which is sufficient for word processing or watching multimedia content.
It will especially stand out for its user experience under Chrome OS. This operating system offers a clean and simplified interface around the Google browser, so perfect for going on the Internet. There is also access to the Play Store to download all the applications you want. Its quality / price ratio is also one of its strengths. Under its shell hides a powerful MediaTek Helio P60T processor, 4 GB of RAM and 128 GB of storage. It is clearly not a configuration for playing, but for that there is cloud gaming.
Regarding autonomy, it is more like that of a laptop than a tablet. Its 7,180 mAh battery allows it to last for about 10 hours according to the manufacturer. On the connectivity side, there is only a USB-C 3.1 Gen 2 port. You will then have to rely on Bluetooth to connect a device in wireless mode, or go through a usb hub.
To find out more, read our review of the Lenovo Duet Chromebook.
---
Offer no longer available?
If the offer mentioned in this article is subsequently no longer available, please take a look at the table below to find other offers for the Lenovo Duet Chromebook.
For further
In order to discover other models according to your budget, we invite you now to consult our guide to the best Chromebooks in 2020.