The OnePlus 8 Pro is the brand's most premium smartphone. Its 128 GB and 256 GB versions both benefit from 150 euros reduction on Amazon: the first is now displayed at 749 euros instead of 899 euros, the second is available at 849 euros instead of 999 euros.

The brand new flagship killer OnePlus 8T has just been marketed, but the Chinese brand announced at the end of September that there would be no Pro version. The latter should naturally have replaced the OnePlus 8 Pro, which therefore remains the manufacturer's best-equipped high-end smartphone. It becomes all the more interesting that its versions 128 Go and 256 GB benefit from a nice reduction of 150 euros on Amazon.
The OnePlus 8 Pro at a glance
A 120 Hz AMOLED screen
Snapdragon 865 + 8 or 12 Go RAM
Wireless charging compatible
Usually offered at 899 euros, the OnePlus 8 Pro with 128 GB of storage and 8 GB of RAM is currently available at 749 euros on Amazon.
Instead of 999 euros, the OnePlus 8 Pro in its version 256 GB of storage and 12 GB of RAM is today displayed at 849 euros on Amazon.
Find out more 👇
Launched at the same time as the OnePlus 8, the OnePlus 8 Pro is an improved version in several aspects. If the two smartphones both adopt a screen borderless and AMOLED, the OnePlus 8 Pro displays a larger diagonal of 6.78 inches in Quad HD definition (3168 x 1440 pixels). The refresh rate is 120 Hz, against 90 Hz for the OnePlus 8. With such fluidity, the OnePlus 8 Pro is therefore easily measured against the range of Samsung Galaxy S20.
8 /10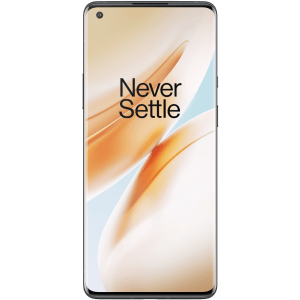 Regarding performance, the OnePlus 8 Pro excels with a Snapdragon 865 chip supported by 8 or 12 GB of RAM. It is quite simply a monster of power, fast in all circumstances, even to launch greedy games.
On the photo side, the smartphone has a quadruple sensor: a 48-megapixel main sensor, an 8-megapixel telephoto lens, a 48-megapixel ultra-wide-angle, and a final 5-megapixel sensor.
Finally, the OnePlus 8 Pro is the first smartphone from the Chinese brand to offer compatibility with wireless charging up to 30 W. Thus, it will go from 0 to 100% battery in just one hour. Fast charging is also part of the game. The brand is also committed to always offering comfortable autonomy and the OnePlus 8 Pro is no exception to this rule with its 4510 mAh battery which can last a whole day, or even more depending on your use. Note, however, that the use of 5G may reduce this autonomy.
To find out even more, read our full OnePlus 8 Pro review.
THE OFFER IS NO LONGER AVAILABLE?
If the offer mentioned in this article is subsequently no longer available, please take a look at the table below to find other offers concerning the OnePlus 8 Pro.
Our buying guide
To discover other models, do not hesitate to consult our guide to the best smartphones to buy in 2020.