The Beats Powerbeats Pro wireless headphones have won over athletes thanks to their exemplary support and the very good audio quality they offer. They are usually quite expensive, but their price becomes more interesting thanks to a reduction on Amazon. They go from 249 euros to 179 euros.

The Beats Powerbeats Pro in-ear headphones won all the votes in our test. Excellent support in the ears, rich sound quality, foolproof comfort … They certainly do not lack assets, and are particularly suitable for athletes. Good news: their price is currently falling thanks to a discount of almost 30%.
In short
Excellent sound quality
Good support
Endurance that does not disappoint
Initially offered at 249 euros, the Beats Powerbeats Pro headphones are now displayed at 179 euros on Amazon. All colors are available at this price.
If you're looking for headphones instead of earphones, the Beats Studio3 Wireless Headphones, with Active Noise Canceling, are also available for a discount on Amazon, where they are. displayed at 199 euros instead of 349 euros.
Find out more👇
8 /10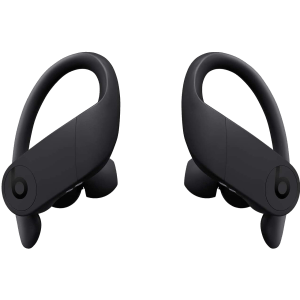 At first glance, the Powerbeats Pro stand out with a rather massive design, with a rather imposing, but adjustable hoop. But don't get me wrong: these in-ear headphones, which come with four types of ear tips, have been designed to fit the shape of any ear perfectly. Their maintenance will therefore be assured, even during intensive and dynamic sports sessions.
And precisely: athletes will appreciate their comfort, lightness and stability. Especially since the brand promises resistance to water splashes and perspiration, which we were able to confirm during our test. But still avoid using them in the rain, since the manufacturer does not specify whether the headphones have a protection index (IP) suitable for these types of conditions.
In terms of sound quality, the Powerbeats Pro offer very good results on rhythmic music, especially with generous bass. In addition, no sound distortion is to be deplored even when the volume is pushed to its maximum. However, these headphones do not benefit from active noise reduction, which erases ambient noise, but we can still count on their in-ear format which can prevent the passage of certain external noises.
Another very good point of the Powerbeats Pro: autonomy, which amounts to 9 hours depending on the brand, but which is surprisingly much more important. Our test has indeed demonstrated an endurance of 10 hours and 50 minutes. It is rather rare, and therefore even more appreciable. Finally, note that these headphones, whose Beats brand is owned by Apple, are equipped with an Apple H1 chip, which facilitates connection with an iPhone as well as the activation of Siri with the voice.
To find out more, read our full Powerbeats Pro review.
---
THE OFFER IS NO LONGER AVAILABLE?
If the offer mentioned in this article is subsequently no longer available, please take a look at the table below to find other offers concerning the Beats Powerbeats Pro.
Black Friday – Black Week: all you need to know
Let's be honest: Black Friday dates are pretty confusing this year. Originally scheduled for November 27 and usually preceded by Black Week, it spans a wider period this year. Each e-merchant and brands communicate about the event in their own way, but come together on activations of joint offers during dates agreed in advance: it is these that we consider to be the Black Friday offers. Also note that some merchants may postpone offers on Cyber ​​Monday week.
Throughout the period, the Frandroid team will select the best good deals available through different selections:
The best Black Friday deals
Good plans in detail