With the announcement of the Galaxy Buds Pro, Samsung's Galaxy Buds Live wireless headphones are now getting a big promotion on Rakuten. They go from 199 to only 99 euros, in their white color only.

Released in August 2020, the Samsung Galaxy Buds Live are Samsung's first wireless headphones to feature active noise cancellation. They have already been replaced by a new model, but this allows them above all today to be offered with a price divided by two, i.e. 50% reduction.
In short
The bean-shaped design
Battery life of 30 hours with the case
They are fast and wireless charging compatible
Instead of 199 euros, the Samsung Galaxy Buds Live (in white color) are now available on sale for only 99 euros on Rakuten. In addition, you will receive 5 euros free on your next order by joining the Club R.
Find out more 👇
6 /10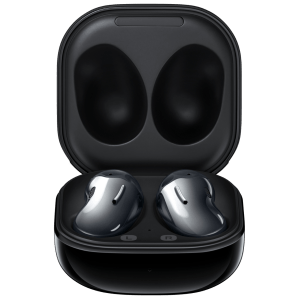 The Samsung Galaxy Buds Live feature a cute bean-shaped design, which is reminiscent of the Senzus in the Dragon Ball anime. It's comfortable to wear and the support is pretty good. They are also IP X2 certified to withstand a few drops of water, but no more. There are also tactile zones on the surface of the ear cups, which are more customizable.
Unfortunately, you should know that this format open-fit does not provide good passive isolation. As a result, active noise reduction technology – incorporated for the first time in Samsung headphones – is clearly anecdotal. You are warned, because even when this feature is activated you can hear the surrounding noises.
The sound quality is on the other hand rather good, since signed AKG, therefore very inclined towards deep bass. This is ideal for some genres of music, but less for others. Either way, you can customize the sound to your liking with six different modes via the dedicated app: normal, amp, bass, light, dynamic, clear, and treble. It doesn't replace a real equalizer, but it already is.
Autonomy is finally very comfortable for true wireless. Each headset is equipped with a 60 mAh battery that allows it to last for more than 7 hours of listening, even with noise reduction. With the case, this figure rises to around 30 hours via 3 additional full recharges. Wireless charging compatibility is also part of the game.
To find out more, read our review of the Samsung Galaxy Buds Live.
---
Offer no longer available?
If the offer mentioned in this article is subsequently no longer available, please take a look at the table below to find other offers concerning the Samsung Galaxy Buds Live.
For further
In order to discover the competition of the Samsung Galaxy Buds Live, we invite you now to consult our guide to the best wireless headphones in 2021.