The Black Friday period is in full swing, and promotions are raining even on items that rarely benefit from discounts. This is the case today for the excellent multimedia box Nvidia Shield TV, the price of which has dropped from 159 euros to 135 euros on Cdiscount.

The Nvidia Shield TV is undoubtedly one of the best Android TV boxes on the market. With its cylindrical format updated in 2019, it is appreciated not only for its compactness, but also for its many compatibilities. The reductions applied to this reference are never very high, but they are so rare that we cannot resist telling you as soon as they arrive, like today: the Nvidia Shield TV drops 24 euros.
In short
Supporte la 4K, HDR, Dolby Vision, Dolby Atmos
A very powerful Tegra X1 + chip
Compatibility with Google Assistant and Amazon Alexa
Usually offered at 159 euros, the Nvidia Shield TV is currently available in promotion at 135 euros on Cdiscount.
Find out more 👇
9 /10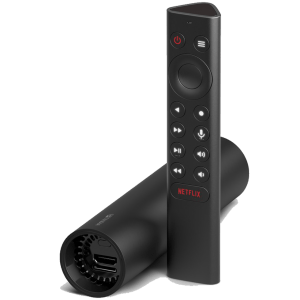 If the Nvidia Shield TV Pro has taken the design that made the success of the previous model, the classic Nvidia Shield TV benefits from a brand new cylindrical "stick" format. Thanks to this compactness, it can easily fit behind a TV. It will quickly be forgotten and will not clutter your TV cabinet. But its small size leaves little room for a more extensive connection like the Pro version: there is therefore simply an HDMI port, an Ethernet port and a microSD slot, useful for extending the low storage which amounts to 8 GB. in the Pro version, this Shield TV does not have a USB port to connect a gamepad, for example, but you can still link one thanks to Bluetooth 5 compatibility.
Nvidia did not ignore power and relied on the very powerful Tegra X1 + chip, supported by 2 GB of RAM. Thanks to it, the user experience will be very fluid, but it will also allow the multimedia box to be compatible with 4K at 60 fps. Theupscaling content up to Ultra HD by artificial intelligence will also be provided. But that's not all: we will also find compatibility with the best video standards such as Dolby Vision and HDR10. On the sound side, you will be entitled to enriched audio thanks to Dolby Atmos. However, check that your TV supports all these certifications so that you can enjoy this excellent picture quality. Nvidia obviously does not forget the gaming by natively integrating its cloud gaming, GeForce Now.
Overall, the Nvidia Shield, which runs on Android TV, will turn your TV into a Smart TV. You will have access to the entire catalog of the Play Store and its applications. The box is also compatible with the Google Assistant and Alexa voice assistants, thanks to which you can also control the connected objects in your home, as well as with the Chromecast function, which will allow you to broadcast content to your TV from a smartphone or computer. Tablet.
To find out more, read our full review of the Nvidia Shield TV 2019.
THE OFFER IS NO LONGER AVAILABLE?
If, afterwards, the offer mentioned in this article is no longer available, please take a look at the table below to find other offers concerning the Nvidia Shield TV.
Black Friday – Black Week: all you need to know
Let's be honest: Black Friday dates are pretty confusing this year. Originally scheduled for November 27 and usually preceded by Black Week, it spans a wider period this year. Each e-merchant and brands communicate about the event in their own way, but come together on activations of joint offers during dates agreed in advance: it is these that we consider to be the Black Friday offers. Also note that some merchants may postpone offers on Cyber ​​Monday week.
Throughout the period, the Frandroid team will select the best good deals available through different selections:
The best Black Friday deals
Good plans in detail