The Jabra Elite 75t wireless headphones have just received an update for active noise reduction and are, in the process, cheaper on Amazon. It is currently found at 129 euros instead of 179.

It was expected that the Jabra Elite 75t wireless headphones would receive an update to finally offer active noise reduction and that day has finally arrived. And as luck would have it, they are currently cheaper by 50 euros to help you take the plunge.
In short
Comfort in the ears
Multipoint Bluetooth
ANC finally available
Instead of 179 euros, the Jabra Elite 75t are now available at only 129 euros on Amazon – only in golden beige color.
Find out more 👇
7 /10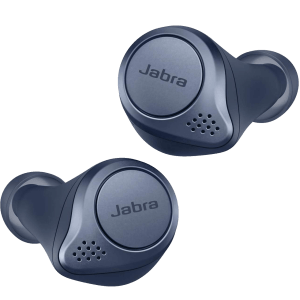 The Jabra Elite 75t basically uses the same design as the old model, but is smaller and more comfortable. The dimensions of these wireless headphones then drop from 27 x 30 x 22.5 mm for the 65t to only 21.29 x 19.4 x 16.2 mm and still hold just as well in the ears, without creating any 'discomfort after many hours of listening.
The physical buttons are responsive and the list of commands rather comprehensive. It is even possible to call your favorite voice assistant with a single press. A built-in sensor also automatically pauses your music when you remove the earbuds. We also note the great resistance of this product thanks to its IP55 certification, which is good news for athletes.
On the audio side, the rendering is excellent in the treble, very good in the mediums, but a little more discreet with the bass. However, it is possible to improve the sound according to your preference thanks to the very good equalizer of the Jabra Sound + application available on iOS and Android. As of October 19, 2020, it is also possible to take advantage of active noise reduction through an update. You can then switch from ANC mode to HearThrough simply by pressing the button on the earpiece. The installation of this new feature should not take more than 10 minutes.
The connection of wireless headphones with the smartphone is rather stable thanks to Bluetooth 5.0 and the multipoint function will allow you to easily switch to another registered device (2 maximum). Note that we finally appreciate its good autonomy estimated at about 28 hours with the charging box according to the manufacturer.
To learn even more, read our review of the Jabra Elite 75t. The latter will also be updated soon when we have tested the noise reduction of these headphones, because they did not offer this feature at their launch.
---
Offer no longer available?
If the offer mentioned in this article is subsequently no longer available, please take a look at the table below to find other offers for the Jabra Elite 75t.
For further
To discover the competition of the Jabra Elite 75t, we invite you now to consult our guide to the best Bluetooth wireless headphones of the moment!