Unveiled last August, the Lenovo Smart Clock Essential smart alarm clock goes, as the name suggests … straight to the point. It therefore includes the main functions necessary to support you on a daily basis. The good news ? Its price already drops to 24 euros instead of 59 euros.

Black Friday is just around the corner and promotions are pouring in from all sides, including on recent high-tech items. This is the case of Lenovo, which is offering an offer on its Lenovo Smart Clock Essential smart alarm clock, a simplified version of the classic Lenovo Smart Clock unveiled last August. If it goes straight to the point with fewer features than its predecessor, this model will be useful in everyday life. He also benefits from a very good promotion since its price drops by 60%.
In short
A discreet and more compact design
A practical digital clock display
Compatible with Google Assistant
Previously displayed at 59 euros, the Lenovo Smart Clock Essential is now available at 24 euros , i.e. a reduction of around 60% on its original price.
If you want to acquire an alternative with screen, the Lenovo Smart Clock model is also on sale at 34 euros instead of 89 euros.
Find out more 👇
Officially launched in September, the Lenovo Smart Clock Essential smart clock is a more streamlined version of the brand's Smart Clock. They differ first of all in their design: the Lenovo Smart Clock Essential, more discreet and with thinner borders, does not have a real screen. Its LED panel is more like an alarm clock-type digital display, without being tactile like its predecessor which, for example, could display photos. The Lenovo Smart Clock Essential therefore focuses on the essentials, displaying the main useful everyday features that one expects from a smart alarm clock.
7 /10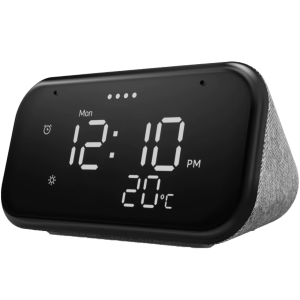 Its black frame therefore displays the time, the date of the day, the temperature of your interior or the weather forecast. To take advantage of its other functions, it will be necessary to rely on the Google Assistant and voice commands. For this, the Smart Clock Essential has two microphones. You can ask the time or the weather, fill out a shopping list, start a podcast or even control the connected objects in your home, thus transforming this smart alarm clock into a real home automation hub. Its small 3W speaker will be a little weak to be able to listen to music or the radio, but this should still be sufficient for less picky music lovers who want to enjoy a pleasant background sound.
The Lenovo Smart Clock Essential also includes a night light, handy for reading a book before going to sleep. Its ambient light sensor will allow it to adapt the intensity of the display so as not to be dazzled in the middle of the night. If it has its place in the bedroom, the smart clock can also find its place in other rooms, such as in the kitchen, to program a timer during a recipe, for example. Finally, note that the Smart Clock Essential has a USB-A port on the back, in particular to be able to charge your smartphone. You will also be able to deactivate the microphone at any time so as not to be listened to.
To learn even more, read our full review of the Lenovo Smart Clock Essential.
THE OFFER IS NO LONGER AVAILABLE?
If the offer mentioned in this article is subsequently no longer available, please take a look at the table below to find other offers concerning the Lenovo Smart Clock Essential.
Black Friday – Black Week: all you need to know
Let's be honest: Black Friday dates are pretty confusing this year. Originally scheduled for November 27 and usually preceded by Black Week, it spans a wider period this year. Each e-merchant and brands communicate about the event in their own way, but come together on activations of joint offers during dates agreed in advance: it is these that we consider to be the Black Friday offers. Also note that some merchants may postpone offers on Cyber ​​Monday week.
Throughout the period, the Frandroid team will select the best good deals available through different selections:
The best Black Friday deals
Good plans in detail