The Lenovo Smart Clock is currently being destocked at Boulanger. The price of this connected alarm clock then drops from 89.99 to only 44.99 euros.

The Lenovo Smart Clock is a connected alarm clock that integrates Google Assistant and if it has basically the same features as a classic Smart Display, its main goal is to become the best companion for your bedside table. It is today on sale at half price.
In short
The elegant fabric design
The 4-inch screen, very practical
Compatibility with Google Assistant
After a nice 50% discount on its original price, the Lenovo Smart Clock connected alarm clock is then available at only 44.99 euros at Boulanger instead of 89.99.
L'alternative
The "Essential" version of the Lenovo Smart Clock connected alarm clock is also on sale at 39.99 euros instead of 59.99.
Find out more 👇
9 /10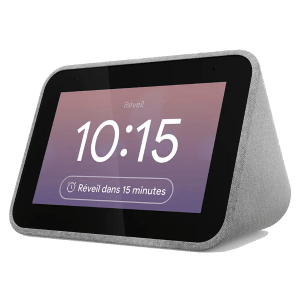 The Lenovo Smart Clock is a connected alarm clock with a touchscreen. This 4-inch one allows you to interact with Google Assistant in a different way than with your voice. It is then possible to display information on the screen, such as the time, the weather, but also videos.
This alarm clock also borrows many elements from Google, such as this fabric design strongly reminiscent of the connected speakers of the Home or Nest range. On the software side, there is also the Smart Display OS from the Mountain View firm to navigate the menus directly from the screen.
Concretely, the Lenovo Smart Clock is a small object that fits perfectly on your bedside table. Especially since it has another practical aspect: a USB port on the back allows you to connect another device to recharge it, which is more than welcome not to clutter the socket next to your bed.
To find out even more, read our Lenovo Smart Clock review.
---
Offer no longer available?
If the offer mentioned in this article subsequently becomes a victim of success, please take a look at the table below to find other offers regarding the Lenovo Smart Clock.
For further
To go further in home automation, we invite you now to consult our guide to the best connected objects compatible with Google Assistant, Amazon Alexa and Siri.