Huawei offers an equally high-end alternative to Samsung's Galaxy Tab S7, but at a much more affordable price. The proof, the MatePad Pro pack with keyboard + stylus goes today from 779 to only 499 euros at Boulanger.

The MatePad Pro may not embed Google services, but it remains an excellent tablet. It is credited with all the good points of a high-end device, including great power to meet all uses and providing features even as premium as wireless charging. In addition, Huawei products are now much more recommendable since the arrival of Petal Search, which makes it easy to find your favorite applications.
In short
The 10.6-inch Full HD + IPS LCD display
The all-powerful Kirin 990 with 6 GB of RAM
Comfortable autonomy with a 7,250 MAh battery
Instead of 779 euros, this pack including the Huawei MatePad Pro tablet with the stylus + keyboard cover combo is now available on sale at only 499 euros on Boulanger.
We find the same pack for 50 euros more at Darty.
Find out more 👇
7 /10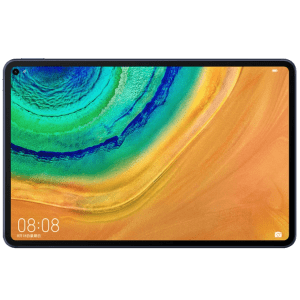 The Huawei MatePad Pro offers the design of a smartphone in a large format. This can be felt in the curvature of its lines or even with the bubble integrated into the 10.8-inch edge-to-edge screen, which is used to hide a selfie camera. A definitely modern look, with beautiful finishes when you see its magnesium alloy shell, which exudes solidity and elegance.
Only the screen ratio is not related to a smartphone, since 16: 9. The slab is also of excellent quality. We are not dealing with OLED as for the main competitors Apple or Samsung, but the IPS LCD technology is well mastered here, with good brightness and colorimetry quite close to reality, by default. The maximum resolution is 2560 x 1600 pixels. You'll love watching content on it, especially since Huawei's tablet is equipped with two speakers from Harman Kardon.
The MatePad Pro then has nothing to be ashamed of with its performance, which is very high level thanks to the Kirin 990 chip supported by 6 GB of RAM. This is not the most powerful configuration at the moment, the palm being for the moment reserved for the iPad Air and its A14 chip, but it will meet all uses, even 3D games. At less than 500 euros, it is clear that the price / quality ratio is excellent on the Huawei side.
On the autonomy side, the Chinese manufacturer announces an endurance of about 10 hours thanks to the 7,250 mAh battery of its high-end tablet. It is at the level of the competition, but it will stand out for its fast charging compatibility up to 40 W, as well as wireless charging. With reverse charging, the MatePad Pro can even charge your Qi-compatible devices, such as your smartphone or your connected watch for example.
To find out more, do not hesitate to read our review of the Huawei MatePad Pro.
---
Offer no longer available?
If the offer mentioned in this article is subsequently no longer available, please take a look at the table below to find other offers for the Huawei MatePad Pro.
For further
In order to discover the competition of Huawei's MatePad Pro, we invite you now to consult our guide to the best touch tablets in 2020.