The classic Google Home is the first of the family with the Google Home mini. Bigger, more efficient and more powerful than its little sister, this speaker is perfect for adding sound to an office or living room. It is currently benefiting from a very nice promotion going from 150 to only 65 euros on Rue du Commerce.

If its design is not stunning, this speaker with its charm and its true beauty is more interior. Very honest sound, a microphone system that perfectly captures our voice and all the intelligence of the Google Assistant. In short, a good speaker connected today with more than 50% discount.
In short
A good little speaker
The perfect integration of Google Assistant
The very wide range of connected objects supported.
Instead of 149 euros at its launch, the classic Google Home connected speaker is now on sale at 65 euros at Rue du Commerce.
The product is being restocked, but it is possible to order it now to benefit from this very advantageous price. You will be delivered from January 8, 2021.
Find out more 👇
7 /10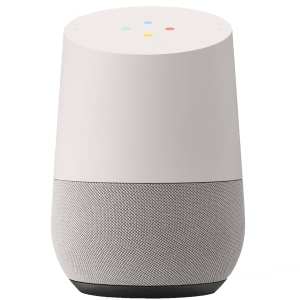 Although its lines are not the most sought after, the Google Home is a beautiful object, which knows how to mark its modernity. The top lets appear a sensitive surface to adjust the volume level for example. Then, four light points in Google's colors (red, blue, yellow and green) come to life when Google Assistant is activated. On the back, a button deactivates the microphone. Google Assistant will no longer hear you, but you will still be able to listen to the music you have launched previously, or using your smartphone. Four light points in Google colors (red, blue, yellow and green)
The two built-in microphones allow good voice capture up to a dozen meters. The ambient noise will not bother it too much to understand you, unless you are listening to music or watching a movie with very loud sound volume. It incorporates a woofer of about 5 cm, a tweeter of 5 cm, two passive radiators of 8.8 cm for a 360 ° sound. Google succeeds in providing a balanced rendering in the frequencies, even if the object is sometimes a little clutter on the separation of the instruments.
Google Assistant is compatible with a very wide range of connected objects, from speakers, to robot vacuum cleaners, including heating and light. Without forgetting services like Deezer, Spotify, access to podcasts, radio and if your television is compatible why not turn it on and start a series with the simple tone of your voice? The rest is for you to imagine.
Do not hesitate to consult our detailed Google Home test to find out more.
---
Offer no longer available?
If the offer mentioned in this article is subsequently no longer available, please take a look at the table below to find other offers concerning Google Home.
Black Friday – Black Week: all you need to know
Let's be honest: Black Friday dates are pretty confusing this year. Originally scheduled for November 27 and usually preceded by Black Week, it spans a wider period this year. Each e-merchant and brands communicate about the event in their own way, but come together on activations of joint offers during dates agreed in advance: it is these that we consider to be the Black Friday offers. Also note that some merchants may postpone offers on Cyber ​​Monday week.
Throughout the period, the Frandroid team will select the best good deals available through different selections:
The best Black Friday deals
Good plans in detail