The technical sheet of the Honor MagicBook 14 is largely similar to that of the MateBook D from Huawei, Honor's parent company. For Black Friday, this model becomes cheaper thanks to a promo code on the brand's website, which also offers a WiFi 6 router.

Honor made a good entry into the laptop market in 2019 with its MagicBook 14, which incorporates certain aspects of the technical sheet of the MateBook D from Huawei, which is none other than Honor's parent company. Even if the Chinese brand recently released a new 2020 version of its MagicBook, the configuration of the one dating from 2019 remains just as effective and has a very good value for money. This is all the more the case today since this ultraportable benefits from a reduction coupled with a promo code, while being provided with a free WiFi 6 router!
In short
A powerful configuration for a more affordable price
Ryzen 5 3500U + Radeon Vega 8 + 8 Go RAM + SSD NVMe PCIe 256 Go
A rather varied connection
Usually offered at nearly 600 euros, then reduced to 549 euros, the Honor MagicBook 14 is now available at 511 euros thanks to the promo code AHUMANOID7FR. An Honor Router 3 (WiFi 6), worth 50 euros, is also offered with the purchase of this laptop!
Find out more 👇
8 /10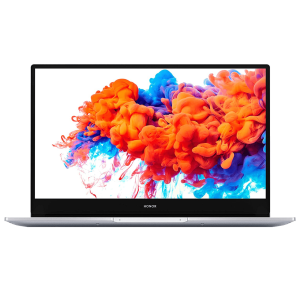 At first glance, Honor's MagicBook 14 looks like Huawei's MateBook D 14, starting with its design, with its matte metal gray frame, or its screen diagonal of 14 inches. The MagicBook adopts an elegant design while sober, which will suit the greatest number. The screen also incorporates an LCD panel with a Full HD definition (1920 x 1080 pixels).
The setup of this machine is quite decent for such a price, especially since it is identical to Huawei's MateBook D: the MagicBook is powered by a quad-core AMD Ryzen 5 3500U combo (clocked at 2.1 GHz, boost up to 3.7 GHz) and an AMD Radeon Vega 8 graphics chip, all supported by 8 GB of RAM. This is a completely honorable and effective technical sheet for daily use with office tasks. Even if this is not the main purpose of an ultraportable, you will still be able to run some low-consumption 3D games, without pushing the graphics to the maximum. On the storage side, we will find a 256 GB SSD, which will bring more fluidity and speed to the launch of software, in addition to reducing loading times.
Finally, the connection is rather complete with an HDMI port, a USB-C port, two USB ports and a headphone jack. Its 56 Wh battery will allow it to last a day, and the MagicBook will be recharged by USB-C with the supplied 45 W charger.
To find out more, read our full review of the Honor MagicBook 14.
THE OFFER IS NO LONGER AVAILABLE?
If the offer mentioned in this article is subsequently no longer available, please take a look at the table below to find other offers concerning the Honor MagicBook 14.
Black Friday 2020: all you need to know
Black Friday: when does Black Friday 2020 take place?
Black Friday has been postponed to 2020 from Thursday 3 December 2020 at 5 p.m. until Monday 7 December 2020 at 11.59 p.m. E-merchants will offer their best offers over this period in several waves: Thursday evening, Black Friday Friday, the weekend and Monday, December 7, which will close the event with the last destocking.
Black Friday: which e-merchants are taking part?
Black Friday: how to be informed of new offers?
Frandroid will carry special Black Friday coverage throughout the event period. We only and independently select the best Black Friday deals as soon as they become available, presenting you with complete transparency what made our choice. You can also find the selection of the best Black Friday offers from Numerama. To not miss any offers until Monday, remember to follow us on our Twitter Frandroid Bons Plans and activate notifications so you don't miss a thing!