The Microsoft Surface Headphones are a good wireless headset that can be found today at half the price on fnac.com. Indeed, launched at 379 euros, it is currently available at only 189 euros after an immediate discount of 50%.

Surface Headphones are Microsoft's first active noise canceling wireless headphones. It was not necessarily the best in its category, especially against Bose and Sony products, but it now has the merit of offering a much better value for money than when it was released by being offered half price.
In short
Comfortable
Sound without saturation
Convenient knobs to use
Instead of 379 euros at its launch, the Microsoft Surface Headphones is available today on sale for only 189 euros on fnac.com.
Find out more 👇
8 /10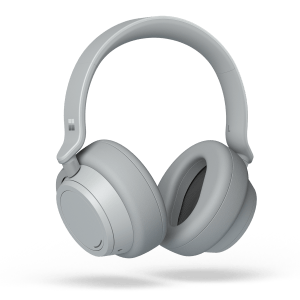 The Microsoft Surface Headphones 2 is already available on the market and corrects the few shortcomings of the old model, in particular by significantly improving the active noise reduction functionality. The Surface Headphones first of the name was indeed not at the level of the competition in this field, even if the effectiveness of the ANC is today a little more convincing with -50% on the invoice.
The sound quality is also there, with sound without saturation. The battery life of these headphones is estimated at 15 hours with noise reduction activated and more than 20 hours without, which is a little below what Bose or Sony can offer. The advantage comes mainly from its fast charging system which allows it to quickly recover from the battery, where a few minutes are enough for an hour of listening.
At first glance, the design of the Surface Headphones is quite simple, but its matte plastic finish is very well done. In addition, the small shiny logo of the brand on the side makes a nice little effect. It takes the circumaural shape to completely encompass your ears, which basically promotes good passive isolation.
Microsoft's headset stands out especially with its wheels on each of the ear cups. The one on the right increases or decreases the sound volume, while the one on the left increases or decreases the effect of noise reduction. With its ease of use, this system is devilishly instinctive to use. Especially since its application (available on iOS and Android) is just as intuitive.
To find out more, do not hesitate to consult our test of the Microsoft Surface Headphones.
---
Offer no longer available?
If the offer mentioned in this article is subsequently no longer available, please take a look at the table below to find other offers concerning the Microsoft Surface Headphones.
For further
In order to discover Microsoft's competition in audio, we invite you now to consult our guide to the best noise-canceling headphones in 2021.