Launched in September, the Google Nest Audio has come to expand the family of connected speakers from the Mountain View firm. It presents itself as a more powerful successor to the classic Google Home. Barely marketed, the Google Nest Audio once again benefits from a more than interesting promotion: the set of two costs 149 euros instead of 199, thanks to a 50 euros discount to Fnac.

The newest connected speaker Google Nest Audio not only adopts a new design, but it also represents an upgrade in performance. Recently available on the market, it still benefits from a promotion that lowers its price: thus, 50 euros discount will be applied for the purchase of two Google Nest Audio.
In short
A new all-fabric design (durable!)
75% more powerful than the classic Google Home
The practical multiroom with two speakers
A Google Nest Audio speaker usually costs $ 99.99, so a bundle of two would normally cost $ 199.98. But currently, the two Google Nest Audio cost 149 euros thanks to a 50 euros discount at Fnac. The promotion will apply by adding both units to your cart.
Find out more 👇
9 /10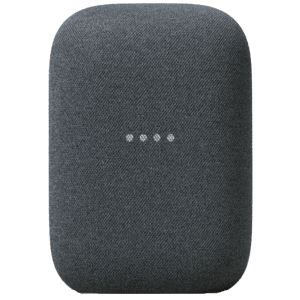 At first glance, the design of the Google Nest Audio is quite different from that of the classic Google Home, its predecessor. It first covers a honeycomb fabric, which is also found on the Google Nest mini and which has the added advantage of being durable. The housing and some components are made from 70% recycled plastic. So much for the green touch. Next, the Google Nest Audio is much bigger, at 17.5cm high and 12.4cm wide, but it will hold up well thanks to its elongated rectangle-shaped build and rounded edges.
According to Google, the sound experience has been significantly improved compared to the classic Home: the Google Nest Audio would be 75% more powerful. The bass would be 50% richer. The speaker thus embeds a 19 mm tweeter and a 75 mm woofer, with sound capable of being diffused at 360 ° thanks to the new design. But the sound quality, which fulfills its promises, is also boosted by software that adjusts the audio to be able to enjoy clearer voices and a more natural sound. Note also the presence of Ambient IQ technology, which allows intelligent calibration of the sound according to the type of content broadcast (podcast, radio, audiobook, song, etc.). The three microphones of the speaker will act so that the speaker adapts the noise to the sound environment in which it is placed.
In addition, Google Nest Audio allows you to connect several speakers using the multiroom system so that they can communicate with each other: you can thus have a group of speakers that plays the same music, for example. This set of two Nest Audio will therefore be able to take advantage of this feature. Finally, Google obliges, Google Assistant is obviously present, and the three microphones will pick up all your orders, whether you want to know the weather, make a shopping list, schedule reminders, ask for the day's information or even control your connected objects present at you. Equipped with Voice Match technology, the speaker will recognize your voice among all.
To learn even more, read our full review of Google Nest Audio.
---
THE OFFER IS NO LONGER AVAILABLE?
If the offer mentioned in this article is subsequently no longer available, please take a look at the table below to find other offers concerning the Google Nest Audio.
Black Friday – Black Week: all you need to know
Let's be honest: Black Friday dates are pretty confusing this year. Originally scheduled for November 27 and usually preceded by Black Week, it spans a wider period this year. Each e-merchant and brands communicate about the event in their own way, but come together on activations of joint offers during dates agreed in advance: it is these that we consider to be the Black Friday offers. Also note that some merchants may postpone offers on Cyber ​​Monday week.
Throughout the period, the Frandroid team will select the best good deals available through different selections:
The best Black Friday deals
Good plans in detail