The Xiaomi Mi Scooter 1S electric scooter is on sale for Christmas. Fnac drops its price from 449 to 399 euros and at the same time offers an Air Pump, a compact electric compressor to inflate your tires at any time.

Xiaomi has launched 3 new models of its electric scooter. The Mi Scooter 1S is in between, it is positioned in the mid-range segment and replaces the much appreciated Xiaomi M365. It was also launched with 50 euros more, but it is found today at the same introductory price as its predecessor thanks to this promotion.
In short
A solid aluminum frame
An announced range of 30 km
Improved tire quality
Instead of 449 euros, the Xiaomi Mi Scooter 1S electric scooter is now available at 399 euros at Fnac, with a compact electric compressor Free Air Pump worth 49 euros.
We also find the Xiaomi Mi Scooter Pro 2, a high-end model with better autonomy, on sale at 449 euros instead of 499. A gift is also offered, in this case a Cosmo Ride pack with removable brake light and remote control worth 69 euros.
Find out more 👇
7 /10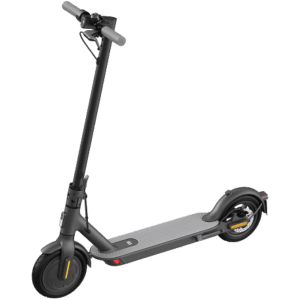 The Xiaomi Mi Scooter 1S looks like a Xiaomi electric scooter. Few changes are to be noticed compared to the M365. We therefore find the same aluminum frame, still robust, capable of supporting a maximum load of 100 kilos. It also weighs 12.5 kg, an identical weight to the old model and it also folds up on itself for easy storage and transport. The IP 54 certification is once again part of the game to resist raindrops and dust.
Like most consumer electric scooters, the maximum speed is restricted to 25 km / h to comply with French regulations. The 1S offers 3 practical modes for driving in the city: a pedestrian mode up to 5 km / h (essential on sidewalks), a standard mode up to 20 km / h and a sport mode for driving up to 25 km / h h. Cruise control is also part of the game.
It is still as easy to handle as ever, with a guide fitted with a push button to accelerate and a brake… to brake. We also note the presence of a bell to warn people around you, because an electric scooter is very quiet as a means of transport. Not to mention the dial taken from the M365 Pro which is used to display the mode used, the speed as well as the remaining battery gauge.
Regarding autonomy, the brand announces 30 km, but everything will depend on the nature of your route. The more the battery drains over time, the more the scooter will slow down. So be sure to keep your charger in your bag. Finally, Xiaomi indicates that it has improved the quality of the tires on its scooter, a black spot from previous generations which tended to puncture regularly.
To find out even more, do not hesitate to consult our full review of the Xiaomi Mi Scooter 1S.
---
Offer no longer available?
If, subsequently, the offer mentioned in this article is no longer available, please take a look at the table below to find other offers concerning the Xiaomi Mi Scooter 1S.
Our buying guide
In order to discover the other references available on the market, we invite you now to consult our guide to the best electric scooters in 2020.