Before the iPhone mini, Apple had already shown its interest in small smartphones with in particular the iPhone SE version 2020 and its 4.7-inch diagonal. For Black Friday, this mini smartphone is entitled to a reduction at Darty and Fnac, which offer it at 449 euros instead of 489 euros.

The range of iPhone 12 recently launched by Apple shows that the Cupertino company wanted to revive for good with small formats since it includes an iPhone mini. But even before this release, the apple brand had released another even smaller smartphone: the iPhone SE version 2020, with a diagonal of only 4.7 inches. But don't get me wrong: its small screen conceals a lot of power. Currently, on the occasion of Black Friday, its price drops a little thanks to a promotion of 40 euros.
In short
A small 4.7-inch Retina display
A powerful A13 Bionic chip
A compact format
Initially displayed at 489 euros, the iPhone SE 2020 of 64 GB is currently available at 449 euros at Darty and at Fnac.
The 128 GB version passes for its part from 539 euros to 499 euros, while the 256 GB model is displayed at 619 euros instead of 659 euros.
Find out more 👇
7 /10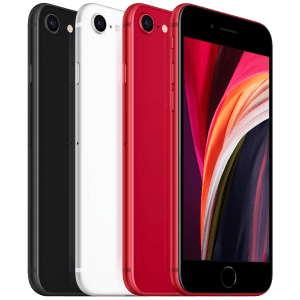 When designing its iPhone SE 2020, Apple has thought of those nostalgic for the iPhone 8. It's simple: it borrows its design, with its small 4.7-inch screen (this time with a Retina panel, True Tone compatible ), its somewhat thick borders and the famous physical TouchID button, which the apple brand has definitely abandoned on its recent ranges. However, Apple has not skimped on the finishes which are excellent, opting among other things for a rather elegant glass back. This iPhone SE will be particularly suitable for people tired of not being able to reach the top of the screen of a smartphone with the thumb while holding it with one hand: here, we are entitled to a really pleasant compactness.
But behind this design which dates a little, hides a power not old-fashioned for a penny. The iPhone SE is powered by an A13 Bionic chip, which also equips the iPhone 11 range. Even if the iPhone 12 includes the A14 chip, which is naturally more efficient, this processor will provide excellent performance. all the more appreciable on a smartphone at a reasonable price. The user experience will be very smooth. The chip is supported by 3 GB of RAM, an amount sufficient to reduce slowdowns, especially thanks to the optimization of iOS.
On the photo side, the iPhone SE goes straight to the point with a single 12-megapixel wide-angle sensor. Compared to other smartphones, including premium iPhones, which combine sensors to ensure great versatility, this choice is rather daring. But the pictures captured by the camera will still be well detailed, the very good algorithms from Apple helping.
Finally, its 1821 mAh battery naturally does not match that of the iPhone 11: do not count more than a day of use. In addition to the 5 W charger, a little too weak, supplied with the iPhone, you can opt for an 18 W power adapter in order to recharge it more quickly. Wireless charging is also part of the game.
To learn even more, be sure to check out our full review of the iPhone SE 2020.
---
THE OFFER IS NO LONGER AVAILABLE?
If, subsequently, the offer mentioned in this article is no longer available, please take a look at the table below to find other offers for the Apple iPhone SE 2020.
Black Friday 2020: all you need to know
Black Friday: when does Black Friday 2020 take place?
Black Friday has been postponed to 2020 from Thursday 3 December 2020 at 5 p.m. until Monday 7 December 2020 at 11.59 p.m. E-merchants will offer their best offers over this period in several waves: Thursday evening, Black Friday Friday, the weekend and Monday, December 7, which will close the event with the last destocking.
Black Friday: which e-merchants are taking part?
Black Friday: how to be informed of new offers?
Frandroid will carry special Black Friday coverage throughout the event period. We only and independently select the best Black Friday deals as soon as they become available, presenting you with complete transparency what made our choice. You can also find the selection of the best Black Friday offers from Numerama. To not miss any offers until Monday, remember to follow us on our Twitter Frandroid Bons Plans and activate notifications so you don't miss a thing!