The Google Nest Hub Max is a connected screen that differs from the classic Nest Hub in particular by the integration of a camera, which can thus transform it into a real surveillance camera. On the occasion of Black Friday, the price of this Smart Display goes from 229 euros to 169 euros at Fnac and Boulanger.

The Google Nest Hub Max is the 10-inch version of the Smart Display Nest Hub, the classic small size. This smart connected screen, with a small camera, naturally integrates Google Assistant and can serve as a control panel for your connected devices at home. In short, the Mountain View firm offers a complete device, and take advantage of Black Friday to lower its price.
In short
A practical 10-inch screen
Google Assistant integration
One camera included
Usually offered at 229.99 euros, the Google Nest Hub Max is currently available at 169.99 euros at Fnac and at Boulanger.
Find out more 👇
9 /10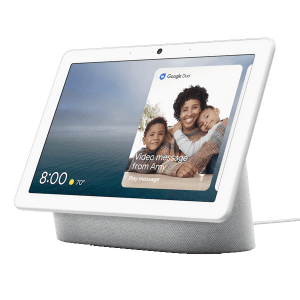 Larger than the classic version, with a 7-inch screen, the Google Nest Hub Max incorporates a 10-inch IPS LCD panel. Despite the absence of Full HD, the definition 1,280 x 800 pixels will be more than sufficient for the use that will be made of it. We will also welcome the presence of an ambient light sensor which will adapt the screen lighting according to the time of day. In addition, at night, the screen will not dazzle you thanks to the "dark" mode.
Thanks to the integration of Google Assistant, you will be able to use the Nest Hub Max as a real connected speaker intended to receive all your orders: ask for the weather forecast, the steps of a cooking recipe, its calendar, the daily information … or even play music or interact with your home automation devices. The Google Nest Hub Max will also be able to display photos or play YouTube videos, and even stream content from your smartphone since it also acts as a Chromecast device.
But the main difference with its classic version is the integration of a small 6.5 megapixel camera. Thus, the Smart Display can act as an indoor security camera: you can thus monitor your home when you are away. It also recognizes faces with the Face Match feature, where Nest Hub Max can deliver a home page and personalized information based on who is recognized. This camera will also be used to make video calls from Google Duo exclusively.
To learn even more, check out our full review of the Google Nest Hub Max.
THE OFFER IS NO LONGER AVAILABLE?
If the offer mentioned in this article is subsequently no longer available, please take a look at the table below to find other offers regarding the Google Nest Hub Max.
Black Friday – Black Week: all you need to know
Let's be honest: Black Friday dates are pretty confusing this year. Originally scheduled for November 27 and usually preceded by Black Week, it spans a wider period this year. Each e-merchant and brands communicate about the event in their own way, but come together on activations of joint offers during dates agreed in advance: it is these that we consider to be the Black Friday offers. Also note that some merchants may postpone offers on Cyber ​​Monday week.
Throughout the period, the Frandroid team will select the best good deals available through different selections:
The best Black Friday deals
Good plans in detail