A new miniature model of the connected speaker from Amazon is now available at the end of 2020. It is called Echo Dot 4 and is already in strong promotion at Boulanger, going from 59 to only 29 euros after a 50% discount.

Amazon recently renewed its connected speakers, including the arrival of a new generation for the Echo Dot range. The design changes and improvements are numerous, but the price is still attractive. Even more so with a 50% discount.
In short
Le multiroom
The new spherical design
Superior sound quality than the old model
Instead of 59 euros, the Echo Dot 4 is now available on sale for only 29 euros at Boulanger. We find her at the same price on Amazon, but the product will unfortunately not be delivered before Christmas.
Find out more 👇
8 /10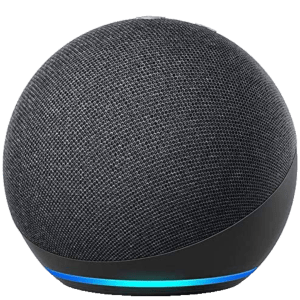 The Amazon Echo Dot 4 of 2020 no longer takes the shape of a small pebble, as was the case on the older generations, but this time adopts a spherical shape a little more design and modern. It is a little more imposing, but nonetheless remains compact with its dimensions of 100 x 100 x 89 mm. The blue light strip that activates when Alexa is called upon is now at the bottom rather than the top.
This new mini speaker obviously promises to be more efficient than the old one. With its 41mm speaker, the Echo Dot 4 is able to deliver a sound experience with deep bass and crisp highs, even if it's not the best. For more power, you can for example connect two speakers together thanks to its multiroom compatibility, and it even works with the Echo Dot 3. It is also possible to connect it to an existing audio system (sound bar, speaker external, etc.) via Bluetooth or the 3.5mm jack port.
How not to broach the subject of Alexa when talking about an Amazon connected speaker. It is quite simply the most widely used voice assistant after Google Assistant. It has many advantages, starting with the famous skills that allow you to personalize the user experience through third-party applications. This allows, among other things, access to additional features, such as controlling your Uber by voice for example. Alexa is also very handy if you order from Amazon often, as you can shop just by talking to your speaker.
The Amazon ecosystem is also compatible with many everyday connected objects, such as light bulbs, electrical outlets, cameras and many others.
To learn even more, read our full review of the Amazon Echo Dot 4.
---
Offer no longer available?
If the offer mentioned in this article is subsequently no longer available, please take a look at the table below to find other offers for the Amazon Echo Dot 4 for 2020.
For further
In order to discover the alternatives of the Echo Dot 4, we invite you now to consult our guide to the best connected speakers in 2020.